The Best Blogging Courses that we have tried! We reveal what we consider to be the best online blogging course. But all of these are some of the best blog courses that we have taken. We have also shared what we think are the best Pinterest courses for bloggers! Make sure to read to the end of the article where we show you how to get a free online blogging course!

We have been blogging and making money online for 5 years (it is crazy how fast time goes right?). It has been an amazing ride so far!
We have been lucky enough to have had some decent success at the blogging business, with the income from our blogs, many months exceeding $10,000+ (check out this income report to see how we do this!). We love to buy the best blogging courses that we can find. Seriously, we have probably tried all of them! The best blog courses can be worth a lot of money so it is worth investing a little bit of time and money in them.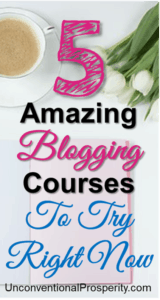 It has been a long journey to get to this point. Our first couple of blogs failed miserably!
Why?
Because we had no idea what we were doing. They were started on a free blogging platform and we were unable to get traffic to them – we made zero significant income of any kind from them.
Disclosure: Please note that some of the links on this page about the best blog courses are affiliate links. This means that we may earn a commission, at no cost to you, if you decide to make a purchase after clicking through the link. Please understand that we have experienced all of these companies, and we recommend them because they are helpful and useful, not because of the small commissions that we receive if you decide to buy something through our links. Please do not spend any money on these products unless you feel you need them or that they will help you achieve your goals.
SIDENOTE! INVESTING DIVA!
You are invited to
attend a free webinar
by my friend, Kiana Danial. She is a professor of Wealth Management at Baruch College in New York, and has a decade of experience in the forex, stocks and ETF markets.
In this exclusive free webinar, Kiana will reveal her personal secrets and the exact strategies she uses for her university students to:
– Make more in one day getting their money to work for THEM, than they can a MONTH working a 9-5 job.
– NOT having to stick to their screen and analyze the markets all the time
– Start with A LITTLE initial investment
*** Plus – You'll get A FREE copy of her trading hacks e-book just for signing up today!
There are very limited seats available so claim yours now!
We learned from this mistake and now we always setup our websites using WordPress and Bluehost so that we can monetize and optimize the site perfectly!
So what is the ONE THING that helped us to become profitable online entrepreneurs?
Learning! There is a saying: The More You Learn, The More You Earn!
We agree with this saying 100% ! We honestly believe that you must invest in your education in order to succeed. We have invested just a few hundred dollars in the best blog courses that have revolutionized our blogging income. We are actually a bit addicted to buying blogging courses though – I need to stop and ask myself 'do you really need that blogging course?'. The answer is almost always YES! Buy the best blogging courses that you can find – I promise they will pay for themselves many times over!
We live in a truly amazing world where you can get resources for FREE online that can help you make literally an unlimited amount of income from the comfort of your own home!
If you are prepared to cough up a little bit more (e.g. $47 for a Pinterest course) then you can accelerate your income growth massively! It is amazing that so little money invested in your education can translate into a fortune!
Are you interested in how we grew from 0 – 45K+ page views on this blog per month in just 6 months? Or how we made $900 from this blog in 25 days (6 months after starting it) ?
The answers are below – we invested significant time and a little money in the best blogging courses available and it paid off big time!
The Best Blogging Courses That We Have Tried
Over the last year we have purchased several courses focused on blogging, affiliate marketing and traffic generation that are truly outstanding. In my opinion these are the BEST blogging courses that money can buy (this one is totally FREE!). The best online blogging course is one that resonates with you and helps you to take action.
The last thing you want to do is to buy the best online blogging course that money can buy – then just do nothing. You must take action!
Hint: If you really aren't ready to invest money in your blog yet, be sure to check out the FREE course that is number 4 on this list!
The right blogging course can SKYROCKET your blog traffic and income!

In this article, we will be sharing the best blogging courses that have had the biggest impact on our blog income and traffic over the 6 months.
As you can see from the pictures above and below, we are starting to see some really nice growth on this site by implementing the teachings from the courses (most of which were completed a month or so ago).

5 Blogging Courses That SKYROCKETED Our Income
These are not expensive courses ($0 to $197) and the return on investment is massive! Honestly, most of them cost less than your monthly coffee bill!
Why learn the hard way when you can just learn from people who have already succeeded!?
As a famous quote goes: 'You can learn from mistakes, but nobody said they had to be YOUR mistakes'.
We promise you that if you work through these courses and put in the work to implement the valuable content, you WILL see a massive improvement in your blogging income!
1. Making Sense of Affiliate Marketing – by Michelle Schroeder-Gardner

This brilliant affiliate marketing course teaches you everything you need to know in order to start your affiliate marketing journey!
The course was written by a multi-millionaire blogger called Michelle Schroeder-Gardner (Making Sense of Cents). Michelle regularly earns over $100k per month with affiliate marketing! She made over $1 Million dollars blogging last year!
We have personally used this course to massively increase our affiliate marketing income this year! It is a 100 page course that teaches you everything Michelle has learned to be successful at affiliate marketing.
Check out our full review of this course.
Making Sense of Affiliate Marketing is the most expensive course on this list ($197) but it has been worth ten times this for us! We have already added about $1000 per month of affiliate marketing income to our existing affiliate income streams by applying what we learned in this course.
We recommend this course as a MUST BUY if you are considering starting a personal finance blog. There is valuable information in the course for all blogging niches and an excellent private Facebook page that is home to thousands of bloggers that is worth the course price alone!
This course is exceptionally valuable for beginners or intermediate bloggers looking to monetize their blog or improve income. So if you want to learn how to make a few hundred dollars extra per month from your blog, within a few weeks, then check out the course here.
Is Making Sense of Affiliate Marketing the best online blogging course we have tried? If you want to make money from affiliate marketing then it is one of the best blogging courses that you could buy.
2. The Perfect Pin: How to Create Viral Pinterest Images – by Jeff Proctor

Getting visitors to your site is crucial – generally the more traffic you have, the more possibilities exist for making money! While Michelles course (above) does a great job teaching you how to convert visitors into customers, it does not cover how to massively increase the number of visitors that your site gets. The Perfect Pin is one of the best Pinterest courses available.
This awesome Pinterest course by Jeff Proctor did more for my Pinterest
Traffic than any other course or advice I have ever read. If you aren't getting traffic to your blog from Pinterest – you are seriously missing out!
It Literally doubled my traffic to this blog over night! We LOVE it! If you want to know the secret to driving 7.5 Million Pinterest views per month to your blog then this is the course for you! Read more about it here.
Jeff literally gives you the secret to driving more traffic to your blog with Pinterest and walks you through how to make flawless pins, quickly and easily. This course is AMAZING value for money at only $47. If you want to drive tens of thousands of visitors to your blog every month, don't miss this course!
Jeff is a super awesome guy as well – he has helped me via email several times to give me feedback on the pins that we are generating. We wrote a complete review of the course we were so impressed with it and wanted to tell the world! This is one of the the best blog courses to take if you want to increase your Pinterest traffic by learning how to make better pins.
Conclusion: The Perfect Pin is one of the best Pinterest courses that focuses on improving the quality of your pins so that people will click through to your site.
3. Traffic Transformation Guide – by Lena Gott

Pinterest is an awesome source of website traffic but it is not the only source! The Traffic Transformation Guide by Lena Gott is really AMAZING, and covers many other clever and advanced techniques to improve traffic and engagement on your site.
The cost is $79, which is very fair, but if that worries you, just sign-up for her free course and you will be notified when Traffic Transformation is on discount sale! Easy! We got it for $53 and it is DENSE with advice. Seriously you will be shocked how much helpful information is packed into this course!
This is not a course where you read it once – it is a reference manual for life! We have to go through this over and over just to keep picking up on some of the techniques!
I have read this book over and over again it is just packed with valuable tips. Possibly our favorite general blogging book EVER! Lena gives you 21 strategies she used to go from 17k page views to over 400k page views in ten months.
4. FREE Blog Traffic Bonus Guide – by Lena Gott

This is the only FREE online blogging course on this list. If you're not ready to buy a blogging course just yet – you can still take advantage of the FREE Traffic Bonus Guide that Lena Gott offers! This free online blogging course contain world-class material that is as good as some of the content she has in her Traffic Transformation Course (Not nearly as much info though!).
If you are new to blogging – this is one of the best blog courses to increase your traffic. Any free online blogging course is worth checking out! I think that most courses are worth their weight in gold – you cannot go wrong with a free online blogging course like this one.
This totally FREE book is a great introduction to Lena and her story blogging. She shares foundational strategies that helped her to push her blog traffic up in the early days. This helped her to get that bit extra traffic for sponsored post opportunities and increased ad revenue.
5. Pinteresting Strategies – Carly Campbell

Rapidly becoming a 'classic' in the blogging world, this ebook was written by Carly Campbell. This Pinterest ebook is the BEST value for money of any general Pinterest course that I have found. I loved it! Carly is very down to earth and her manual pinning strategy is amazing!
She only pins manually and has gone from zero to 200k page views per month from Pinterest to her blog per month. I have seen amazing results on my own Pinterest account by implementing her Pinterest strategy! This is one of the best Pinterest courses and we highly recommended it if you want to succeed on Pinterest. Check it out here.
Carly's course is one of the best blog courses to take if you want to increase your Pinterest traffic. Even with all of the changes to Pinterest over the last year, Carly's Pinterest course is still extremely valid and useful.
BONUS EBOOK: Easy Backlinks for SEO by Debbie Gartner (aka TheFlooringGirl)
Debbie is a good friend of ours and she has produced one of the most unique and valuable eBooks that money can buy if you are looking to dramatically improve your SEO game. Check out her awesome SEO eBook (it is 120 pages!). Quality backlinks are crucial to building your blogs domain authority and they can really help your google rankings. The problem is that good quality backlinks can be very difficult to obtain!
Debbie has built her blogs domain authority to over 55 and she has 200,000 views per month from Google search to her blog! In this eBook she explains exactly how she has done it without using tedious blogger outreach or guest posting! Yup, she has secret ways to get backlinks that have domain authorities in the 80+ range! I love her methods and I highly recommend her eBook if you want to control your own backlinks and pass some serious link juice to your blog.
Buy Easy Backlinks for SEO and start ranking your blog at the top of Google search ASAP! The secrets in this eBook have helped our Google rankings dramatically!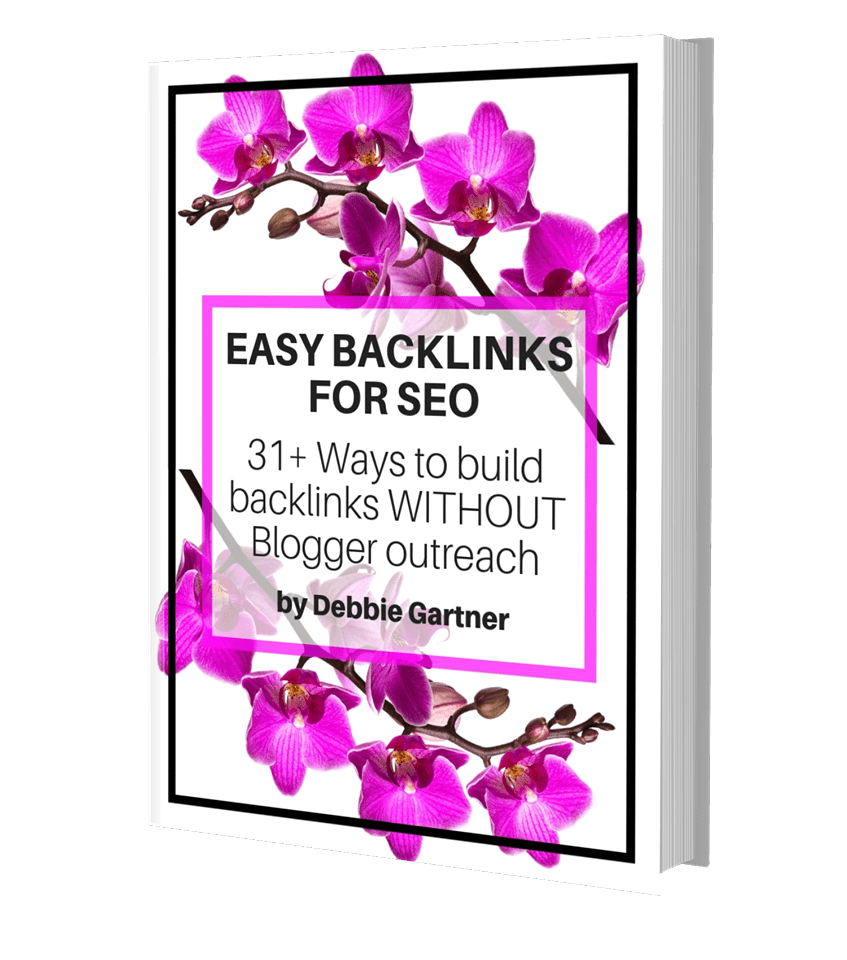 Conclusions – The best online blogging course

So there you have it – the best blogging courses that we have found to be exceptionally useful and that offer great value for money!
We attribute our success online to these resources (combined with hard work) and we hope that by bringing them to your attention, that you will also find success by learning the material in these awesome courses.
The best online blogging course for affiliate marketing (Making Sense of Affiliate Marketing) and the best online blogging course for driving Pinterest traffic are not the same course! It is worth purchasing all of these blogging courses in my opinion – you will learn something new from each one of them. We highly recommend buying the best Pinterest courses mentioned in this article, especially if you want to see your blog traffic skyrocket!
Happy Blogging!
Russell and Maleah
Related Articles – The best blog courses!

We Hope That You Enjoyed The Best Blogging Courses That We Have Tried. If you have any other courses that you have found to be helpful, please let us know in the comments. Do you really need that blogging course?