Do you know what are the top 5 paid survey sites? In this article, we will show you the 5 best highest paying online surveys you can make extra money from today!


We have earned some extra money over the years by completing free online survey sites and earned point rewards that can be converted to cash. Finding the top 5 paid survey sites is not always easy – many survey sites are not legitimate.
Survey sites that pay you are THE most popular way that our readers make some extra money!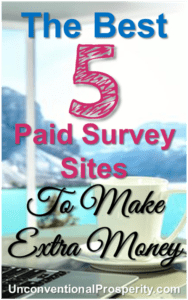 It is not very likely that you will make millions of dollars from completing online surveys, but it is relatively easy to make a few hundred dollars of extra side income every month!
Disclosure: Please note that some of the links on this page are affiliate links. This means that we may earn a commission, at no cost to you, if you decide to make a purchase after clicking through the link. Please understand that we have experienced all of these companies, and we recommend them because they are helpful and useful, not because of the small commissions that we receive if you decide to buy something through our links. Please do not spend any money on these products unless you feel you need them or that they will help you achieve your goals.
Some survey sites like (e.g. Survey Junkie) will pay you to simply answer some easy questions! It really doesn't get easier than that to make some extra money online!
This can make a HUGE difference to your financial situation if you invest the pay from the surveys into educational products (like these books) or start a money making blog.
SIDENOTE! INVESTING DIVA!
You are invited to
attend a free webinar
by my friend, Kiana Danial. She is a professor of Wealth Management at Baruch College in New York, and has a decade of experience in the forex, stocks and ETF markets.
In this exclusive free webinar, Kiana will reveal her personal secrets and the exact strategies she uses for her university students to:
– Make more in one day getting their money to work for THEM, than they can a MONTH working a 9-5 job.
– NOT having to stick to their screen and analyze the markets all the time
– Start with A LITTLE initial investment
*** Plus – You'll get A FREE copy of her trading hacks e-book just for signing up today!
There are very limited seats available so claim yours now!
#1 Top Tip
Our number 1 tip is to sign up for as many survey sites as you can so that you can complete the maximum amount of surveys each week.
Paid surveys are super easy to complete, making it the perfect work at home side hustle for making some extra money!
Below are some of my tips for making online surveys a profitable side business. I have listed the best online paid survey sites for you to join.
Sign up for as many of the free best online paid survey sites as possible!

We recommend signing up for all of the free online survey companies below if this is a side hustle you are interested in.
We have tested them all over the last few years and they will all pay you promptly and are 100% legitimate sites.
You can sign up for all five of the paid survey sites very easily and quickly – doing so will ensure an adequate supply of surveys sent to your email that you actually qualify for!
All five of these sites are the best online paid survey sites that we could find and they are legitimate.
Highly Recommended Survey Sites That Pay You
We have made significant money with these sites and they are great way to earn some extra money! Our favorite is Survey Junkie….but try them all and see which one you prefer!
Highest Paying Online Surveys – Our favorites!
These are all free online survey sites that can help you make some extra money. We have only included the best paid survey sites in this list. We love these free survey sites and we are sure that you will too.
Only Complete Surveys on Legitimate Survey Sites
Be careful when signing up for paid survey sites. There are some 'scammy' sites out there – stick to those that we mention on this page and throughout the site.
I would avoid any paid survey site that requires a payment – most of the legitimate sites are free. If a survey site asks you to pay a fee for access it is most likely a scam.
Also, I would avoid any site promising more than about $75 per survey and I would expect to work for an hour or two to get paid this kind of money for a survey!
Lets be real – you will not get rich filling out these surveys (it is more of a side income source) so if a site promises too much then it is likely a scam.
Related Articles:
Highest Paying Online Surveys
Survey Junkie Review – Get Paid Daily With Online Surveys
Free & Easy Ways to Make Money Online
Here are some more details about my 5 favorite online surveys – these are all FREE so it doesn't hurt to just sign-up and give them a go!
1. Survey Momma
Survey Momma is one of my favorite survey sites that partners with several other paid survey sites that all have great reputations. This way they can send you quite a good selection of the highest paid surveys.
You can sign up for Survey Momma here.
2. Survey Junkie
Survey Junkie is one of the easiest paid survey sites to get started with. It is a well established, trustworthy and transparent site and it is very easy to start making money with the paid surveys. This is why we highly recommend Survey Junkie. Survey Junkie has some of the Highest Paying Online Surveys as well and they don't take long to complete. We have found that our time is best spend completing the highest paid surveys on Survey Junkie – just ignore the ones that take too long to complete (they give a time estimate next to each survey opportunity).
You can sign up for Survey Junkie here.
3. PineCone Research
Pinecone Research is one of the best online paid survey sites. I personally use them and they have a stellar reputation in the paid survey site industry. They are honest, pay reliably and the surveys are quite interesting. I love spending some time listening to music and filling out the PineCone Research surveys.
You can sign up for PineCone Research here.
4. Ebates
My wife LOVES Ebates. The first week we signed-up for Ebates, she made $100 just for purchasing through the Ebates links on items that she buys anyway! It is not a paid survey site but I thought it would be worth a mention – I promise you will love Ebates!
You can sign up for Ebates here.
5. VIP Voice
I've had several well-paying surveys ($50 gift certificates) with VIP Voice Surveys. They run some cool auctions/sweepstakes which makes VIP Voice a little different from most other survey sites. Highly recommended!
You can sign up for VIP Voice here.
Best Online Paid Survey Sites
Well there you have it – some of my favorite survey sites for making some extra money online. I hope you find some of these sites useful and please let me know in the comments if you have any other good suggestions to add to this list!
Related Articles:
How To Get Paid Taking Online Surveys
How To Make Extra Money With Swagbucks
These are the best paid survey sites that we have used. What are the highest paying online surveys that you have found? Do you agree with our selection of the top 5 paid survey sites? Comment below!