Are you looking for the best affiliate programs? I am 100% convinced that affiliate marketing is one of the best business models to ever exist!
A successful website can easily make $10K+ for you every single month (Check out our income reports!). The best part is that you do the work once and the site just keeps paying you!
We personally make $10k+ per month from affiliate marketing using just two small websites.
Here are some of the most popular affiliate programs around. Be sure to check out our Recommendations page to see the programs, courses and tools that we have used to generate thousands of dollars per month online.
If you haven't already started making your first website or blog, check out my simple How To Start A Blog guide that shows you how to get one up and running for almost free and in just a few minutes!
Disclosure: Please note that some of the links on this page are affiliate links. This means that we may earn a commission, at no cost to you, if you decide to make a purchase after clicking through the link. Please understand that we have experienced all of these companies, and we recommend them because they are helpful and useful, not because of the small commissions that we receive if you decide to buy something through our links. Please do not spend any money on these products unless you feel you need them or that they will help you achieve your goals.
Approval Process for Affiliate Programs
It is not unusual for affiliate managers from these companies to visit your website to check that it is high enough quality and that it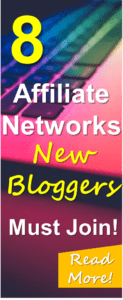 qualifies for their affiliate marketing network. If they are satisfied, they will approve your site. They will give you access to the affiliate links (text format or banner form). Occasionally, we have had to even do an interview over the phone in order to be approved as an affiliate.
All you have to do is place the affiliate links on your website and then sit back and earn a good amount of money (40% per sale or more!)  if people click on the links or purchase any of the products through them.
A good option is to search in regular affiliate networks like ClickBank and Commission Junction. Affiliate networks are awesome because you can become an affiliate for dozens or even hundreds of different merchants all from one platform.
Traffic: You will need to make sure that you drive high quality traffic to your site in order to earn money from the affiliate links.
Pinterest is one of my best traffic sources, you can learn the techniques and strategies from the experts that I learned from right here.
The Best Affiliate Programs
Our advice is to join many affiliate networks at a time to maximize your chance of making a good income online.
The best affiliate programs will be easy to work with, highly converting and make you great income!
1) MaxBounty
This is a major CPA network that we are part of. Join for free. This affiliate network is acting as an intermediate between the publisher (webmaster) and the advertiser.
Choose the advertisers which you want to be an affiliate. Every advertiser offers you different incentives for every sale, visit or signup to their websites through your website.
MaxBounty has over 20,000 active affiliates. With 1,500 campaigns to advertise across all traffic types like surveys, freebies, financial, insurance, dating, diet, etc there is no shortage of resources! Our MaxBounty Affiliate Manager is very responsive and we can reach him easily by phone, IM or email whenever we need!
The downside to Maxbounty is that all the 'good' CPA offers are only available to you when you have been on the platform for a long time. However, it is well worth it as they offer $10 CPA for some paid survey sites!
2) www.cj.com
Join for free. This affiliate network is acting as an intermediate between the publisher (you the webmaster) and the advertisers. You are required to register. Your website will be checked and if accepted, then you will be allowed to get the ads. Hundreds of advertisers are there from which you can choose the best according to your website nature. Get the ads or banners of the advertisers and place them on your site.
For every action that is done on these ads e.g. a visitor goes to the advertiser's website, registers there or makes any purchase; all this is recorded by the CJ Affiliate by Conversant (formerly Commission Junction). The revenue is collected from all of your advertisers by the CJ Affiliate by Conversant (formerly Commission Junction) and is paid to you every month. Good websites are earning $10,000 – $15,000 every month. The well known publishers are Netflips, MyPoints, Ebates etc.
Join for free. Look at this website and check all the advertisers and their offers. Choose the best ones according to the nature of your website and start earning today.
4) PeerFly
Join PeerFly for free – it is one of my favorite general affiliate programs. The approval process is easy and you are assigned a helpful, yet hands off affiliate manager.
The offers NEVER seem to expire or 'pause' and the commission is decent. I use PeerFly for CPA offers of paid survey sites – these can be very lucrative for the new affiliate and I highly recommend signing up for these types of offers on PeerFly. If you would like to read more about my exact affiliate strategy, you can check out my article on how I use PeerFly to monetize this blog.
They have a wide range of different offers and it is an easy platform to navigate. PeerFly has been around for a long time and has proved to be a reliable and honest affiliate network. One of the nicest features of Peerfly is how they pay their affiliates.
PeerFly have a low minimum threshold of just $50. They can pay you via almost any method that you can think of and on any time frame! They realize that cash flow is a big issue for bloggers and I love that I don't have to wait 2 months for payment! They can pay you for money earned as soon as the next business day!
This is a very well known affiliate network. It only markets products that are downloadable, especially software products, courses and e-books. ClickBank is very easy to join and is very inexpensive. If you are an affiliate vendor, then you will pay 7% and $1 for each sale.
The downside to Clickbank for the affiliate is they have the worst minimum payout I have ever seen. To be paid the first payout, you have to have made a minimum of 5 sales that were purchased by a minimum of 3 different payment methods (e.g. Visa, Mastercard, Paypal etc.).
Apparently this is in place to prevent fraud but it is very discouraging for a new blogger to see affiliate commissions piling up but with no way of being paid!
My experience is that Clickbank products do not convert well (but the products usually offer a high commission percentage, sometimes as high as 90%).
It has more than 600 merchants and 10,000,000 affiliates. If you are an affiliate then you have the chance to promote a larger number of different products. Some famous merchants are Dell, American Express, Disney and others.
Sharesale is a big network with more than 400 merchants. They pay pretty good affiliate commissions. The fee for an affiliate vendor to use their service is 20% of affiliate revenue. You don't need to buy any additional software. I use sharesale mainly for coupon site affiliate offers.
This network has more than 1,200 merchants and 2,500 programs. All applications are accepted at the time of submitting application so entry is very easy. Usually small and medium level affiliates like to join this network. It offers 2-tier referral payment system for affiliates. Advance payment is collected from the merchants so there are no chances of commission theft.
Conclusion – The Best Affiliate Programs

There are many other affiliate networks available but care should be taken to not get involved with companies that might defraud you. The networks discussed above are large, established and have excellent track records of paying affiliates. We have personally found these to be the best affiliate programs online.
Be sure to check out our Recommendations page to see the programs, courses and tools that we have used to generate thousands of dollars per month online.
I hope this article on the best affiliate programs has helped you get started with affiliate marketing!
Russell & Maleah
Related Articles