Are you tired of your Pinterest or Facebook traffic going down for no obvious reason? This article will show you how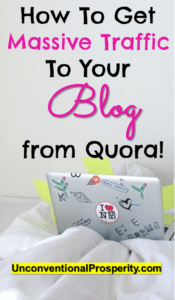 we get great blog traffic from Quora.
Answering questions on Quora can breathe new life into your blog.
Please be sure to check out our other tools and resources for more ideas on how to make money blogging and increase your blog traffic. Some of the resources you will find there have helped to change our lives forever.
Traffic is literally the life blood of your blog.
Disclosure: Please note that some of the links on this page are affiliate links. This means that we may earn a commission, at no cost to you, if you decide to make a purchase after clicking through the link. Please understand that we have experienced all of these companies, and we recommend them because they are helpful and useful, not because of the small commissions that we receive if you decide to buy something through our links. Please do not spend any money on these products unless you feel you need them or that they will help you achieve your goals.
As bloggers we all know that excited feeling of spending hours and hours researching, writing, editing, adding images, polishing and finally publishing a quality blog post or article.
Then you eagerly wait for the people to come to the article and LOVE IT.
Unfortunately, this rarely happens – but if you read on we will show you a very simple and effective way to generate targeted traffic on demand.
Thousands of views a day are possible using this simple strategy and best of all – these visitors convert well and actually buy your products!
We are going to explain in this article, step-by-step exactly how we drive traffic from Quora to our websites and blogs. If you follow the steps, you should see significant traffic from Quora today!
It takes a few weeks of consistently answering question on Quora to see MASSIVE traffic, but honestly, you will likely see a few visits today.
What is Quora and Why Use It For Traffic?
Quora is a website where users ask questions and receive answers to questions from other users. It is a simple concept with user feedback in the form of 'Upvotes' (similar to Facebook 'likes').
The more Upvotes that an answer receives, the higher up in the list of answers that it will appear. Here is a nice video to help explain the concept of Quora.
This video will also explain how to set up your Quora account, how to locate feeds to write answers for, how to setup your Quora profile and analyze your answers views/stats.
We will also provide some of our own personal experience and tips in the next section.
Quora is actually pretty fun to explore but it can make you a ton of money as well if you:
Run a website that needs targeted traffic to make revenue.
Sell any kind of information product that can help solve people's problems.
Want to establish yourself as an authority in a field.
Pretty much all of what we want to accomplish as bloggers! You can search for a particular problem that someone is having and then write an answer to address that problem.
You can see that this is an extremely powerful tool to find hungry buyers for your products!
Quora allows the user to put a link to their website in the profile page and also allows for links within the answer to a question. The link must be relevant to the question and you have to be careful to avoid 'spammy' behavior. So only put the most helpful links in your Quora Answers.
Our First Month Answering On Quora
Here is a screenshot of our daily views over the last 30 days. These are views of my answers to peoples questions. Some of the questions that we have answered are shown on the left side of the screen.
You can see that we have had about 40,000 views of our answers but that the number of views varies daily. This can be dramatic, as you can see one day we had nearly 6000 views and others are only a few hundred views. Consistency with finding and answering popular questions is the key to success with Quora.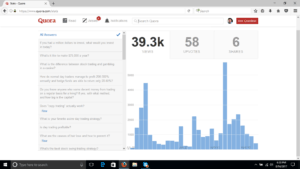 If you want to check out our answers and see our style for driving traffic to our websites using Quora, please visit our profile on the site follow us and Upvote some of my answers while you are there! We will follow you back and Upvote any answers you write as a thank you.
How To Get Blog Traffic From Quora
Here is our step-by-step strategy for finding the most popular questions to answer to ensure maximum traffic to your blog or website. Answering on Quora can be fun!
Search for topics that you have a high quality blog post about. The more relevant the answer you have (your blog post) to the question the better results you will see.
Narrow down the questions by only choosing to answer questions that are popular. They way to check for topic and question popularity is very easy. First, only pick topics with large numbers of public followers – usually over 50k followers works well but more is always better. The screenshot below shows the followers (on the right) for the topic 'Hair Loss and Baldness' to be around 48k. Not bad.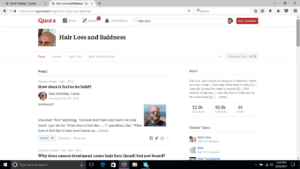 3. Next you want to narrow down to a specific question within the topic so click 'Topic FAQ'  and choose one that you can answer with cunningly inserted links to your blog. You should pick one with more than 50 -100 followers and as high views as possible for maximum effect. See the screenshot below.
The number of followers is 91 which is OK but the question has been viewed 33,765 times which is pretty popular. This is a pretty good to question for me to answer as we own a website dedicated to solving hair loss etc. By doing so we can drive lots of targeted potential buyers for months to come to our website.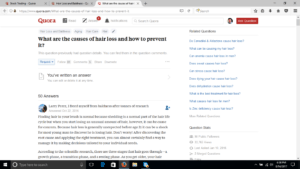 Finally, make sure that your answer is comprehensive and that the readers can get valuable information from the answer you provide without having to visit your link. The link should simply provide more information that adds to your answer. This is critical if you do not want Quora to delete your answers or even ban you for 'spamming'.
One trick that we use to minimize how many links that we have in our answers that point to sites outside of Quora is to write more extensive answers to popular questions in the blog post section of Quora.
The links that we put in the Quora blog posts do point to our website, but we only link internally in our Quora Answers to the Quora blog posts. This way we still get traffic to our external blog from the Quora blog posts but not every Quora answer has external links in it.
Maybe it does not matter too much but we love the traffic that we are getting from Quora and do not want to risk being banned!
Answering on Quora can be a lot of fun and once you do it a few times you will realize that it is very easy and satisfying to help people!
Conclusions
Answering questions is an amazing way to get blog traffic from Quora. We feel that this is not yet fully tapped into by many bloggers. Hopefully, this post will help you to gain more traffic to your blog and if it was helpful please share on social media.
Thanks,
Russell & Maleah
Related Posts:
How To Make $100k+ Per Month Affiliate Marketing
How We Increased Pinterest Traffic 2000% in 14 Days!