Home based jobs – Are you looking for the highest paying home based jobs? These unconventional jobs from home can help you make some more money and help you to get paid to work from home. High paying home based jobs can be hard to find! Our favorites are freelance proofreading work and blogging – what are yours?

These 6 highest paying work at home jobs will help you earn some decent money from the comfort of your own home. We all know that there is really no place like home! This article will show you some of the highest paying work from home jobs without a degree that you can start today. From freelance proofreading work to blogging – this article will introduce you to some of the best work at home jobs.
Is working from home your dream? For many people, working from home is their ultimate goal! Finding highly paid work from home jobs can be challenging though. In this article, we want to share with you the unconventional jobs from home that we have used to make some extra money.
SIDENOTE! INVESTING DIVA!
You are invited to
attend a free webinar
by my friend, Kiana Danial. She is a professor of Wealth Management at Baruch College in New York, and has a decade of experience in the forex, stocks and ETF markets.
In this exclusive free webinar, Kiana will reveal her personal secrets and the exact strategies she uses for her university students to:
– Make more in one day getting their money to work for THEM, than they can a MONTH working a 9-5 job.
– NOT having to stick to their screen and analyze the markets all the time
– Start with A LITTLE initial investment
*** Plus – You'll get A FREE copy of her trading hacks e-book just for signing up today!
There are very limited seats available so claim yours now!
Highest Paying Work at Home Jobs
We work from home and it is definitely a goal worth working towards! We blog from home about personal finance topics and manage to make a full-time living from our websites.
However, not everyone wants to start a blog or take on a risky business in order to be able to work out of their house. Perhaps you just want to spend more time with your family AND still get a nice reliable paycheck. We have compiled a list of the 6 highest paying home based jobs that you can work at to make a full-time or part-time income online!
Not only are these the 6 highest paying work at home jobs that we could find, but they also have the lowest barrier to entry – i.e. most people qualify for them! Some of the jobs require things like a land line phone, college degree or some experience – but not all of them. The great thing is that many of these jobs pay well and offer benefits (health insurance and retirement accounts).
If you need money right now, check out this recent article about how you can earn money today by completing online paid surveys.
These are legitimate hourly work at home jobs – they can be quite hard to find! Let's get started with our list of highly paid work from home jobs.
Unconventional job ideas – get paid for your opinions
We discuss many unconventional job ideas in this article, but we wanted to mention that completing paid surveys for money might be one of the most unconventional job ideas that you didn't even know was a real thing! People actually make a living by answering questions online for market research companies. The pay is just OK but if you need some money quickly while you look for other unconventional job ideas then paid surveys might be just what you are looking for.
If you are curious (or just in a hurry to make $500 today!):
Our readers LOVE the paid surveys at Survey Junkie and we highly recommend trying them out if you want to make some extra money quickly. You won't become rich doing it, but it can be a great way to supplement your income while searching for other unconventional job ideas to try.
Disclosure: Please note that some of the links on this page are affiliate links. This means that we may earn a commission, at no cost to you, if you decide to make a purchase after clicking through the link. Please understand that we have experienced all of these companies, and we recommend them because they are helpful and useful, not because of the small commissions that we receive if you decide to buy something through our links. Please do not spend any money on these products unless you feel you need them or that they will help you achieve your goals.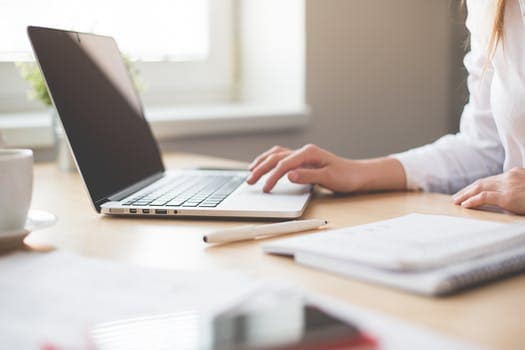 Best Freelance Work at Home Job – Proofreading
Proofreading is our favorite freelance work at home job. It is possible to take a course (we highly recommend this free webinar and course by our friend Caitlin Pyle – she is an expert in proofreading and teaching others how to get paid to proofread). Proofreading is just one of the unconventional jobs from home that many people are using to make extra money.

Caitlin has many students that make thousands of dollars a month thanks to her awesome training videos and lessons. If you like writing and have an eye for detail, then this side hustle could be perfect for you!
6 Highest Paying Work At Home Jobs
There are just so many work at home jobs that you are very likely to qualify for! A great place to start is FlexJobs.com, a website that focuses on connecting you to work from home, flexible, part-time, and freelance work opportunities.
Here are our favorite home based jobs that pay the highest rate per hour. Do you know any good high paying home based jobs? Please put your ideas in the comments if you know of any good opportunities.
Here are a few work at home jobs that are available now (May 2018) to get you started! These are mainly phone jobs that come with benefits.
Customer Service Agent at Aspira – This is a company that is offering remote work (work-from-home), fielding calls from customers. If you are looking for a telephone job that includes benefits this one could be for you. You are required to have a landline phone (that rules me out!) and a high speed wireless internet connection. Minimum requirements include a high school diploma and some experience with customer service.
Nordstroms – Full-time work at home jobs with benefits. This is another phone job that requires you to respond to customer inquiries etc. They often offer basic customer support jobs. Nordstroms is a huge company and they pay pretty well.
Rosetta Stone – language coaching online. You can apply through their careers page for language coaching online. You can do this job from home, normally you need to be a native English speaker, teaching experience (preferred) and have a Bachelor's degree. Tutoring online with Rosetta stone could be your flexible way to make money from home.
West Marine – This is a pretty massive company that offers telecommuting, flexible work at home jobs for various positions. They are based out of California.
Check out our list of the 6 highest paying work from home jobs without a degree!
If you are looking for the highest paying work from home jobs without a degree, then you will find these jobs quite exciting. There are plenty of work from home opportunities that pay extremely well – even with no college degree. We have found that the highest paying work from home jobs without a degree are not actually jobs – they are businesses. The potential to make money from a business will always be more than a job and if you run your own business – nobody cares about a college degree!
1. Search Engine Evaluation
Search engine evaluation is a great work at home job. These days we all rely on search engines like Google, Bing or Yahoo. Well, let's be honest…mainly Google. These search engines trawl through the entire internet daily and help you find so many awesome sites (like this one 🙂 ) and articles online.
Check out how Ashleigh makes $700 a month part-time as a search engine evaluator!
However, the search engines are not yet at a point where they can actually accurately judge the accuracy, quality and relevance of the search results. This is where a real human 'search engine evaluator' comes in.
A search engine evaluator basically verifies if the search results are a useful match to the search term.
Companies That Hire Search Engine Evaluators
The majority of companies that hire search engine evaluators will hire you as an independent contractor for a home based job position. I particularly like this because it allows you to set your own hours etc. This is very important to me, because home based jobs are very appealing for one main reason – freedom.
The companies usually provide training and there is often a short evaluation test required before you can start working. Aside from this, there is not a lot of direct contact with the company, which is also a good thing!
Here are the top search engine evaluator companies you might want to apply to:
Leapforce – Leapforce has been given some decent reviews on Indeed.com.
Lionbridge – Lionbridge is another option if you want to try working as a search engine evaluator.
Earning Potential = $13-15 per hour.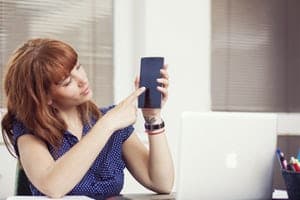 2. Telemarketing

Telemarketing is a pretty good work at home job. All you need is a good phone voice, computer and a landline to make $18 – $30 per hour. The barrier for entrance into the world of telemarketing is quite low which makes it a good opportunity for most people.
It is important to have a good work ethic and a passion for selling if you want to do well as a telemarketer. Self-motivation and the ability to handle rejection are also qualities that you will need to have. Many companies require you to cold call leads, so it helps to have experience with that kind of work.
Companies That Hire Telemarketers
Brighten Employment provides good hourly wages, flexible hours and a solid client base.
Arise is another legitimate site to find telemarketing opportunities.
Marketlink – These guys are US only. They pay a base hourly rate plus commission. You don't need a land line for this job.
Earning Potential = $15-$30 per hour.
3. Transcription
Transcription jobs involve you listening to an audio file and typing it out. Usually the client wants a written record of an interview audio recording, so that they can publish it or have it for their records. Transcribing can be quite hard work, but it pays pretty well!
I have tried transcription and it is very difficult. To make good money, you really need to set up a proper system (including a foot pedal that pauses and rewinds) and some specialized software. One thing to be very careful about is how the client quotes the hourly rate.
Important note: Earning $10 per audio hour will mean that you are working many hours to transcribe that one hour! But you will only be paid $10 for that work. This is not one of the best highly paid work from home jobs if you just treat it as a job. It has a higher potential to make you lots of money if you turn it into a business or teach others how to improve their transcription skills.
Companies That Hire Transcribers
TranscribeMe pays about $20 per hour for transcribing audio files from home. This is one of the hardest self employed jobs from home but it can be a great way to make some extra money.

Check out this transcription course that will teach you everything you need to know to start a transcription business – Transcribe Anywhere Review
Rev is another transcription company that will pay you $39+ per hour! They do have high standards though and you will be required to pass a short test to qualify.
Earning Potential = $20-50 per hour.
One of the easiest areas to get work as a transcriber is in the legal niche. Lawyers need to have someone transcribe recordings they have of clients or witnesses' statements etc.
They will often outsource this to a freelance transcriber – which could be you! Check out this great course that teaches you the skills that will help you to become a highly paid ($60,000 per year!) freelance legal transcriber from home!
4. Web Design
Web design is one of the most lucrative and fun work-at-home jobs. You do need to have the specific skill set for this job though! Jobs usually include designing and building websites for clients.
Skills that are required include, SEO, Social Media management, coding and website building.
Companies That Hire Web Designers
10UP is a company that does web development and hires remote work at home employees. The pay is pretty good at $20 per hour.
Earning Potential = $20-50 per hour.
5. Proofreading

If you want to get started making money at home by proofreading documents, then it really helps if you have experience before applying for online jobs.
However, it is not an essential requirement. Many people manage to build a freelancing business from proofreading (this is the number one proofreading course where several students have made thousands of dollars as proof readers in the first month!)
All you really need is the ability to read and write well in English and a good attention to detail.
There is a huge demand worldwide for proofreading. Essentially, proofreading involves taking a document that someone else has written and making it perfect by editing. Obviously, it helps if you are the type of person who has a sharp eye for grammar or punctuation mistakes! English proofreading is the most common language that freelance proofreading work usually covers.
Here are two sites that offer freelance proofreading work:
Many people are making $40,000+ per year as work at home proofreaders. I reckon that it is one of the lesser known but better paid side hustles or work at home jobs. You can turn it into a very successful business as well! Freelance proofreading work can be extremely rewarding.
Caitlin Pyle – Proofreading Course
One good example is Caitlin Pyle. She has made a full-time living from proofreading and she now sells her own proofreading course that teaches others how to do the same. Caitlin teaches others how to get started with one of the most highly paid work from home jobs out there! Caitlin even gives a free webinar that teaches you all the proofreading basics.
6. Start A Blog – Potentially one of the most highly paid work from home jobs that you can do. This is one of the online jobs from home that could make you a fortune.

Ok, we admit that starting a blog is not exactly a conventional 'work-at-home' job. However, for those of you that want to take their income to the next level – nothing beats a successful blog! You don't need to write about your daily life or keep an online 'diary' to have a popular blog. You just need a subject that you know a bit about and share that information with other people. Blogging is probably one of the most unconventional jobs from home that you can do! We know….. just try telling people that you are a 'blogger'.
Work from home job – blogging!
Ok, so blogging is more of a business than a job. A Blog will work for you 24/7. The concept is pretty simple – people from all over the world visit your blog and you make money when they purchase products that are advertised on your site. But did you know that blogging is one of the highest paying home based jobs?
This is called affiliate marketing and we make $3,000 – $11,000 every single month from it. Our earnings are nothing compared to some of the other more experienced bloggers! Many make millions of dollars a year! If you are looking for a way to make recurring income, even when you stop working, then blogging may be a good fit for you.
You can read our online income reports to learn more about how we make money blogging. It helps to have some savings or other income from a job before you start a blog. This is because it takes a while to start making money from a new blog.
Check out our How To Start A Blog guide that walks you through the simple steps to setting up your first blog!
We highly recommend that you read Michelle Schroeder-Gardner's story about how she went from earning $0 to $150k per month on her personal finance blog! Her story is very inspiring! She worked very hard building her blog for many years, now she makes over $1 million per year from her blog and only works 10 hours per week. The rest of the time she travels the USA in an RV.
These are the highest paying work from home jobs without a degree that we have tried. They have the potential to help you earn 6-figures or more per year – the sky is the limit!
Want to start a profitable online business? Here are our recommended online businesses.

Conclusions – 6 Highest Paying Home Based Jobs
Hopefully, you have found something useful in this article about the highest paying work at home jobs. Working from home is AMAZING and we believe that it is the first step in escaping the grueling 9-5 corporate culture!
Home based jobs will likely become more popular as time goes on. We live in an era where it costs more to pay for child-care than the average parent earns every month. Home based jobs allow for parents to continue to earn money and simultaneously spend more time with their families. Home based jobs for moms are particularly in demand and we expect this trend to continue. Hopefully, this article will help you to find high paying work from home jobs that work well in your own life.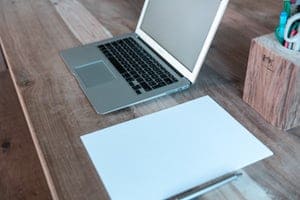 If you want to work from home – seriously nothing is stopping you! It just takes some motivation and dedication to applying for as many of the different home based jobs as possible. There are so many opportunities out there, that with just a little bit of work, you will likely find something that works well for you. These unconventional jobs from home can help you spend more time with your family and friends, while still allowing you to supplement your income.
Free work at home summit – learn from work at home experts!
If you are interested in one of the best FREE work at home resources – check out this FREE work at home online summit that features over 40 world-class work at home experts that specialize in legit work at home jobs.

We have one last resource for you that has a wide variety of home based jobs – Remote.co. They have some of the best online jobs from home that you can apply for.
Good luck with your search for the best work at home opportunity! Finding the highest paying home based jobs is not always easy, but they are out there! Online jobs from home can make you a fortune – if you work hard at them.
Russell and Maleah
Related Articles: self employed jobs from home
How to make $65 per hour with freelance proofreading
How Drew Duboff started Freelance Proofreading and Writing
The 8 Best Home-Based Jobs for Introverts
Do you have any great work at home job ideas to share with our readers? Have you tried freelance proofreading work? Please share any ideas about the highest paying home based jobs that you have tried. Self employed jobs from home can be very lucrative, we love them! High paying work from home jobs can change your life.