A few years ago, we learned how to trade stocks from a millionaire stock trader called Jason Bond. We learned

Jason Bonds 3 patterns.
This is our story about how we learned to trade stocks with Jason Bond and make thousands of dollars with our stock trading side hustle. Our lives have never been the same since!

There are so many ways to make money online and gain financial freedom. We started our journey in online entrepreneurship many years ago by starting to trade stocks online. Trading stocks opened our eyes to the wonderful world that is outside of the conventional 9-5 salaried job.
Many people have heard that you can make money trading stocks online. Unfortunately, these people are often told by well-meaning friends and family that trading stocks is a fools game. They told us that as well!
Nevertheless, we now consistently make money trading stocks. We have made as much as $10,000 in a few days with a single stock trade! When we first started, we made so many mistakes. We struggled to find a trading strategy that worked well for us. We actually lost $20,000 in the early days! This was a HUGE amount of money to us. But we didn't give up.
Eventually, we came across a free Jason Bond stock trading webinar (check it out for FREE here). You can learn Jason Bonds 3 patterns in the free webinar!
Disclosure: Please note that some of the links on this page are affiliate links. This means that we may earn a commission, at no cost to you, if you decide to make a purchase after clicking through the link. Please understand that we have experience with these companies, and we recommend them because they are helpful and useful, not because of the small commissions that we may receive if you decide to buy something through our links. Please do not spend any money on these products unless you feel you need them or that they will help you achieve your goals. Jason Bonds stock trading strategy does entail some risk. Any Jason Bond reviews on this site are written by a real subscriber to Jason Bond Picks.
Facebook Group and YouTube Channel
Come and join our stock trading alerts Facebook group (How To Make Money With Stock Alerts Services)! We also have a Stock Alerts Reviewed YouTube channel which we hope are helpful. As a new trader it's helpful to be part of a community of traders so you don't feel you are battling the market alone!
About Jason Bond
Jason Bond (his real name!) was an elementary school teacher in New York for many years.
He taught gym class and given the enthusiasm and energy of the guy, I imagine that he was excellent at what he did.
Jason turned to stock trading as a way to escape $250,000 of student debt and credit card debt that he had accumulated (along with his wife's debt).
Jason started with just trading stocks as a side hustle. Eventually he was able to become good enough to quit his teaching job and trade full-time.
As his skills developed, he was able to pay off his huge debt – something that had proved impossible on a teacher's salary.
Jason trades small cap stocks (stocks that cost less than about $10 per share). He doesn't trade big stocks like Facebook or Twitter. The reason for this is that it's very difficult to make a lot of money on these bigger stocks in short periods of time.
Jason regularly makes 100% or more profits on his trades because the smaller stocks that he trades are very volatile! This doesn't come without risk, but if you can master these types of stocks then the sky is the limit for how much money you can make.
Jason has been very successful at stock trading. He regularly makes 6-figures a year trading part-time! The best part is that he now runs one of the most popular stock alerts services where he teaches others (including us) to trade stocks.
Jason Bonds 3 patterns to trading success are very easy to learn! This is probably why he has a successful business teaching trading.
How We Learned to Trade Stocks with Jason Bond
We started trading stocks by following Jason Bonds alerts. He issues texts and emails when he buys and sells a stock – you can just follow along! He will give some information like how many shares he has bought and why.
Check out his FREE MASTERCLASS to see if his stock trading educational alerts service might be for you!
You don't need to start with a large amount of money. You can start with as little as $100 while you practice trading. Obviously, if you want to make more money then you will need to trade with larger amounts.
After following Jason's alerts successfully for a while, we started to learn how to spot the stocks that he was alerting to his subscribers. We found that there really was just three simple price patterns that he was looking for on a daily basis.
These patterns are simple, but represent high probability trades, where the likelihood of the price increasing quickly is very high.
Jason Bonds Three Patterns to Profits

Jason Bonds trading strategy involves finding stocks that can make 10% – 20% moves up in price in 1-3 days. How does he do that?
It all starts with knowing what to look for. Low cost stocks tend to behave in a relatively predictable fashion due to something called technical analysis.
For example, when good news is announced for a stock, buyers and sellers will start trading a stock and the stock price will often respond in a predictable manner. Fear and greed causes people to buy and sell as the stock price increase or decreases.
This example should help you understand how psychology plays a role in the price action.
Imagine that the price of a stock has fallen dramatically, like in the chart below in late April and in Late August. The start of the selling causes people to get scared and sell their stock – which pushes the price down further.
But this does not represent the true value of the stock, but rather it is just a reaction based on fear. The trick is to know that at some point the price will likely stabilize as the selling stops and buyers step in. This leads to a bounce back upwards in price. You can see the price bounces back up after the selling in early May and again in the middle of September.
You can make money by anticipating these price patterns. The trick is purchasing the stock at the bottom of the chart pattern and then selling it when the price increases. You would be surprised how often this pattern happens.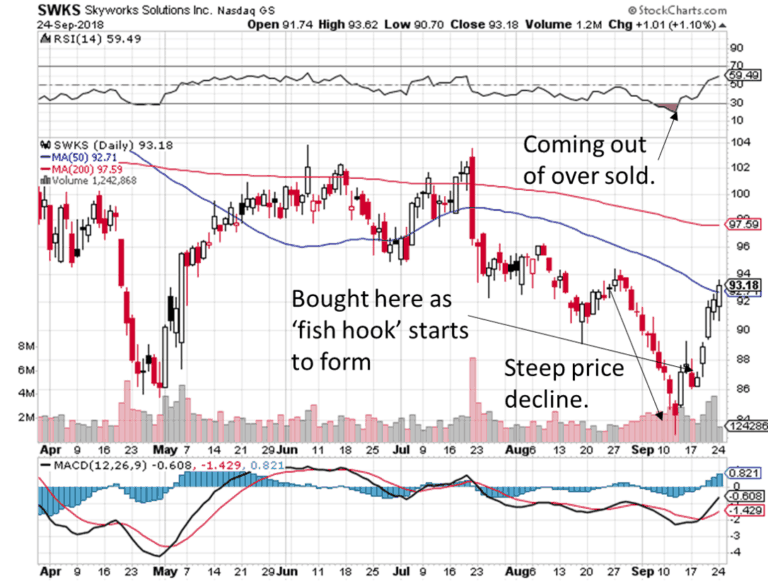 This is one of the Jason Bond three patterns that he teaches – simple, right?
Jason calls this pattern the 'fish hook' pattern because it looks like a fish hook.
If you want to learn all of the Jason Bond three patterns that we use, check out his webinar for free.
Jason Bond Swing Trading

Jason Bonds strategy is not long term investing. He only buys stocks and holds them for a few days. This means that you can capture much larger gains and don't expose yourself to any negative market moves. Swing trading is very different from day trading (this means buying/selling the stock all in one day) and it is a great way for busy people to trade and work at the same time.
You can start trading Jason Bonds strategy with as little as $100. You will want to use a commission free broker like Robinhood if you are starting with such a small amount though so that commissions don't eat up your profits.
Listen to how Jason went from huge debt to multi-millionaire in this awesome podcast!
Jason Bond DVD
The Jason Bond DVD that I learned from is available for free at the end of his free webinar. It use to sell for $1,000 so it is worth watching the webinar if he still offers it as a free bonus.
The Jason Bond DVD is called 'The Basics of Swing Trading'. It is a great DVD for new traders as well as experienced people. We learned a lot of Jason Bonds strategy for free from the Jason Bond DVD and it inspired us to learn more by signing up for his premium alerts service.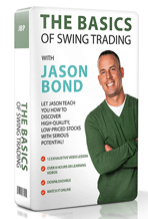 Jason Bond Books
The Jason Books that he has published are great learning tools as well. He has a couple of books:
1. Ultimate Trading eBook. This is a free eBook that is great for beginners. Some nice insight into the Jason Bond strategy.
2. Swing for the Fences by Jason Bond. This is a great book that tells you everything you need to know about Jason. It is his story about his rise from poverty to multi-millionaire by trading stocks.
These free books and webinars are how we learned to trade stocks with Jason Bond. However, we decided to purchase his premium subscription service so that we could basically learn directly from him. Jason Bonds trading strategy is simple but it does help to see him execute trades and to follow along until your confidence is high enough to trade by yourself.
Jason Bond Stock Alerts Service
So, what do you get with Jason Bonds stock alerts subscription service? Here are the benefits of the service:
1. The Jason Bond watch list is sent out every morning to subscribers. This details potential stocks for the day that fit Jason Bonds trading strategy. Usually Jason includes a few thoughts, price to buy at and what he is looking for in terms of profits. You can use the Jason Bond watch list to trade without waiting for Jason to issue any alerts.
2. Real-time stock alerts. Jason buys a couple of stocks a day from his watch list. When he does, he will alert members in real-time so that you can follow along if you like. I prefer to purchase from the Jason Bond watch list before he buys because I can often get a better price.
3. Educational Suite. This is a valuable resource that goes over the Jason Bond three patterns that he uses and teaches you everything that you need to know about trading stocks.
We love Jason Bonds trading strategy and the alerts we have copied have been very profitable. Usually the stocks that he buys are purchased and sold a few days later which means that you don't need to be glued to your computer all day.
Conclusions – Jason Bond Strategy

If you want to learn Jason Bonds trading strategy, then don't miss the free Jason Bond stock trading webinar (here).
Stock trading might seem like a risky or intimidating side hustle, but with the right education, mentor and attitude, it can be easier and more profitable than you can imagine.
Many Jason Bond reviews are not written by genuine subscribers. Maleah and I have traded with Jason for years! We learn Jason Bonds 3 patterns and implement them every week.
You can learn to trade by using a virtual account that simulates stock trading but without risking real money.
This is a great way to learn the Jason Bond strategy without risking real money. We use Webull to virtually trade when we are trying out a new strategy.
Webull is an excellent app that allows you to trade on the stock exchange for free!
Good Luck
Russell and Maleah
Related Articles – other Jason Bond reviews and resources

Jason Bond Three Patterns Reviewed
Jason Bond Stock Alerts Review
Jason Bonds 3 Patterns to Success Reviewed
We love the Jason Bond three patterns to trading success. If you want to learn stock trading, we highly recommend that you try Jason Bonds trading strategy which you can learn for free from the Jason Bond stock trading webinar. Jason Bonds watch list is probably the most useful tool we have used to make money part-time online.