Is Invest Diva legit? Can Kiana Danial help you build your wealth and become financially free? Is Invest Diva a scam? Is Kiana Danial a SCAM?
People are so skeptical when it comes to the financial education industry.
So, it wasn't a big surprise when I looked through my analytics on a recent article that I wrote about Kiana Danial (Investdiva.com) to find the top search terms were things like 'is Invest Diva legit?' and 'Is Invest Diva a SCAM?'.
Disclosure: Please note that some of the links on this page are affiliate links. This means that we may earn a commission, at no cost to you.
Invest Diva is a company that Kiana Danial started with the goal to help women (often moms!) to gain control of their finances and build sustainable wealth.
Maleah and I are currently working our way through the educational content (you can get started for FREE here!) that Invest Diva has.
Who is Kiana Danial?
Kiana Danial is a 37 year old mom, investor and entrepreneur that has made millions of dollars working from home.
She started trading during the 2008 market crash, and doubled her initial investment within a month, while the rest of the market was LOSING money!
Kiana is a three-time author, who was named the Personal Investment Expert of the Year 2018 by the Investment Fund awards.

Kiana started the Invest Diva movement, to help people, especially women, and moms, who are looking for financial security, but are scared and intimidated by it.
– Those who want to do it, but think they need to be stuck to their screen all days to invest.
– Those who think they need to have thousands of dollars before then can start investing.
– Those who think they need to be some sort of a math whiz in order to invest and participate in the financial markets.
– With her Invest Diva education, Kiana Danial takes all she learned the hard way, and show you the easy way.
What Does Invest Diva Teach?
Kiana Danial and Invest Diva teach women to invest and focus on teaching students patience, looking at the big picture, and investing in the long term.
Kiana seems to invest in large cap stocks, cryptocurrency and even Forex. After I signed up for her newsletter and books I received an email with the following claim in it.
This is VERY interesting as it shows Kiana grew $500 to $64k. This is an INSANE return and while she does provide the screenshot below, it isn't exactly a smoking gun of proof that this occurred.
It isn't clear how long this feat took to accomplish or what exactly she did to make the money.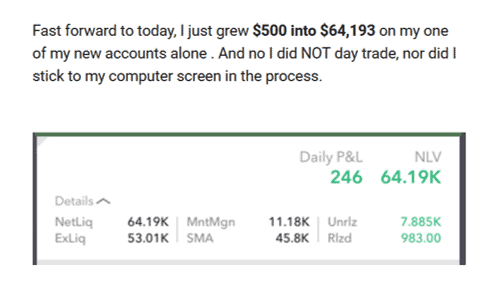 Generally, I always consider such bold claims to be misleading or false. Sometimes they are 100% true but not exactly replicable or scalable. Sometimes it is just luck!
The Complete Guide to Day Trading FREE EBOOK!
For a limited time, Markus Heitkoetter is giving away the electronic version of his bestselling book "The Complete Guide To Day Trading"
It's 296 pages and full of tips, tricks and practical information that you can use right away in your trading.
Click here to download the eBook now.
Marketing can also be blamed for these types of claims – obviously people will tout their BEST EVER results.
Either way, these massive % returns aren't really proof of some kind of Invest Diva scam or that Invest Diva is not legit.
It is absolutely possible that these returns are for real. However, I would never buy an educational product from someone based on result claims like these.
Invest Diva Products
Invest Diva provides a plethora of products that teach you to make money passively by investing. These range from free or low-cost eBooks to $1,000 courses.
I am currently reviewing the Invest Diva products and learning a bit as I go. I recently bought some of the books listed below. I love them!
1. Power Course (click here for more info). This is Kiana's flagship course that can change your financial situation! It explains the exact steps that Kiana used to grow her net worth to millions of dollars! It shows you exactly how to make your money work for you.
2. Premium Investing Group (PIG). You can learn more and join here. Kiana does weekly live sessions to her subscribers every Tuesday morning for an hour to place orders for potential trades. She gives them all her secret investing strategies. This is a monthly subscription service.
3. Cryptocurrency Investing For Dummies Book (FREE + Shipping).
4. Ichimoku Secrets Ebook. You can get it here. This book is AWESOME and a must read if you are looking to get into this style of trading.
Most of Kiana's products walk you through risk management, financial planning, and investing in other assets like stocks, commodities and forex as well as the key topic that they are focused on.
She seems to take a very broad approach to teaching the ENTIRE skill set that Work-at-home moms need to make money.
Which leads me to some of my observations regarding other Invest Diva reviews online.
Invest Diva Reviews Online
In my quest to figure out if Invest Diva is a scam or legit…..I have been checking out a bunch of other Invest Diva reviews.
My main issue so far is that the video testimonials that I have found are very vague. They just say things like 'I have gained control over my financial future and now manage my own account' or 'Invest Diva taught me to invest'.
Here is an example from one of Kiana Danials students that took the PowerCourse. While the review is very positive when it comes to Kiana Danial's personality and character – it is notably lacking when it comes to what the course contains or if it is right for YOU.
One of my friends (David Jaffee) who is an expert at investing by selling options gave a scathing review on his YouTube channel. However, in this case I think David is wrong. He is a good guy but sometimes a little over critical of other educational services in the trading niche.
I do recommend his passive income generating service where he sells options contracts and collect money from them weekly. You can learn more about David Jaffee and his investing service here.
Here is a video interview I did with David as well.
Conclusions: Is Invest Diva a SCAM?
In my opinion Invest Diva and Kiana Danial is NOT A SCAM. There really is a lot of value in her products.
She is inspiring women all over the world to take control of their finances. Her education is focused more towards beginners in investing from Bonds, Forex to stocks.
Which is why, in my opinion, the Invest Diva reviews are so vague – her stuff covers A TON of different investing niches at a lower level to get people started.
I like how Kiana is realistic – she encourages her students to aim high but to be realistic when it comes to investing. I feel like the best step for people that are curious if Kiana can help them financially to signup for her free masterclass to learn more.
Russell and Maleah
Related Articles
Is Invest Diva legit? Can Kiana Danial help you build your wealth and become financially free? Is Invest Diva a scam? Is Kiana Danial a SCAM? I think that she does provide a lot of decent trading and investing information.