Welcome to our Jason Bond Jackpot Trades review. Does working for 10 minutes once a week sound good to you? Read on to find out how Maleah and I make great money trading stocks that create a stream of passive income for us! Starting a stock trading side hustle is NOT that hard!

Stock trading is one of the most life-changing and exciting side hustles that we have ever started. It changed EVERYTHING for us.
We started trading stocks when we were extremely poor and hopeless. Sure, that was probably a mistake though! It led to desperate trading and severe stress when trades didn't work out.
We persevered and by the end of our first year we had made $20,000 trading stocks – a huge amount of money to us at the time. You can read more about our stock trading story here.
We learned to trade stocks by subscribing to different paid services. Stock trading alerts services can be a great way to learn the basics and have an experienced 'guru' guide your trades.
You can start your stock trading journey by watching Jason Bond's FREE WEBINAR and learning some more information about his three successful patterns and how he trades. I recommend doing this before you consider purchasing any service.
The services typically cost anywhere from $50 – $250 a month and include trade alerts (the expert trader tells you when he is buying a stock and why), watch lists of potential trades and some educational materials (e.g. video lessons etc.).
Here are some of the guys that we have learned from over the years.
1. Jason Bond
2. Kyle Dennis
3. SuperTrades
They all have slightly different styles. Some buy and hold stocks for days/weeks and others buy/sell within a single day. Some of them like to bet against stocks (short selling) while others only buy stocks that are likely to go up in price.
Many people don't want to spend much money learning to trade stocks. This makes total sense, especially if you only want to make a little extra money on the side. It wouldn't make much sense to pay $250 a month if you are not very serious about learning the art.
Luckily, many of the stock alerts services offer low-cost options that new or part-time traders can benefit from. These are 'bare bone' services that costs as little as $97 per YEAR. They usually offer 1 stock pick a week and some basic education to help you learn more about the strategy.
Jason Bond Jackpot Trades is one of those services that we joined recently. But is it worth the $97 a year?
Disclosure: Bear in mind that some of the links in this post are affiliate links and if you go through them to make a purchase, I will earn a commission. Keep in mind that I link these companies and their products because of their quality and not because of the commission I receive from your purchases. The decision is yours, and whether or not you decide to buy something is completely up to you. A stock trading side hustle can be risky please be careful.

You can start your stock trading journey by watching Jason Bond's FREE WEBINAR and learning some more information about his three successful patterns and how he trades. I recommend doing this before you consider purchasing any service.
Jason Bond Jackpot Trades Review
Jason Bond is a well-known stock trader, investor and entrepreneur. He lives in New Hampshire with his wife and son. He started a stock trading side hustle many years ago to supplement his income.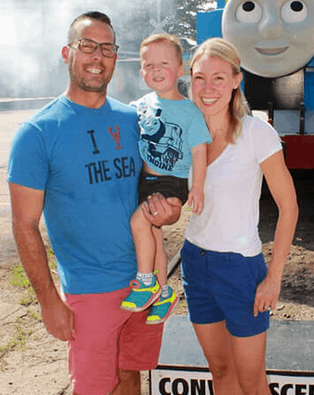 Jason was $250,000 in debt while working as a New York gym teacher. He was forced to return cans from the trash for the deposit – just to make ends meet! This is how ridiculous the USA has become, where an intelligent educated (Masters degree) person can't make ends meet.
Jason managed to escape his debt ridden life by starting to trade stocks as a side hustle. He was able to refine his trading strategy over several years until he was making $100,000+ a year trading stocks. He focuses on trading inexpensive stocks that trade below $10 per share.
Low cost stocks are perfect for people that don't want to trade much money – they tend to be very volatile, which can lead to much bigger percentage gains than a blue chip stock.
Jason perfected just three simple stock trading patterns that offer the highest chance of buying a stock that will go up in price in just 1-4 days. You can read more about the three patterns that he uses here.
Jason now teaches other people how to trade stocks. He is the co-founder of a company called RagingBull.com which is rapidly becoming the industry leader in stock trading education services. He has multiple services all at different price points.
Today, I want to give you a review of his lowest cost service called Jackpot Trades.
What Do You Get With Jason Bonds Jackpot Trades?
The Jackpot Trades service is for the busy professional or just someone that wants to earn some passive income and have fun doing it. Here is how it works:
1. Jason sends out a simple email at 10am EST every Monday morning. The email gives you his favorite trade idea for the week and some simple entry/exit price information. He usually includes some explanation on why he thinks the trade will be a winner.
2. You can buy the trade if you can get it within the 'buy zone' that Jason suggests.
3. The stock has a high chance of increasing in price (typically 5% – 20%) within the week. So, sell the stock when you have some profits (hopefully, although nothing is guaranteed).
That is basically how it works. Jason won't hold your hand through the trade and it is up to you to manage your position. This can be scary for new traders. Our advice is that you should trade with just a tiny amount of money until you have a feel for the price action of these trades.
For example, when the email alert is sent out at 10am EST on Monday morning, many people will immediately buy the stock. This causes the price to rise quite quickly! This is great if you are one of the people that gets in early, you can get some quick profits (within an hour). However, the price will most likely go back down over the course of the day.
It is important to realize that Jason Bond's Jackpot Trades are swing trades – not day trades. The idea is to hold the stock for most of the week to get the biggest gains. There is no rush to buy the stock! Wait for the price to decrease after the alert to buy!
Many people lose money trading stocks because they get Fear of Missing Out (FOMO). They rush in to a trade that has already increased in price. The price then immediately decreases resulting in a loss. Don't be that person!
Week 1: Jason Bond Jackpot Trades $ZAGG
Here is the very first trade that we made with Jason Bond's Jackpot Trades service. Here is the alert that he sent out on the Monday morning. You can see the buy, sell and stop loss prices that Jason recommends.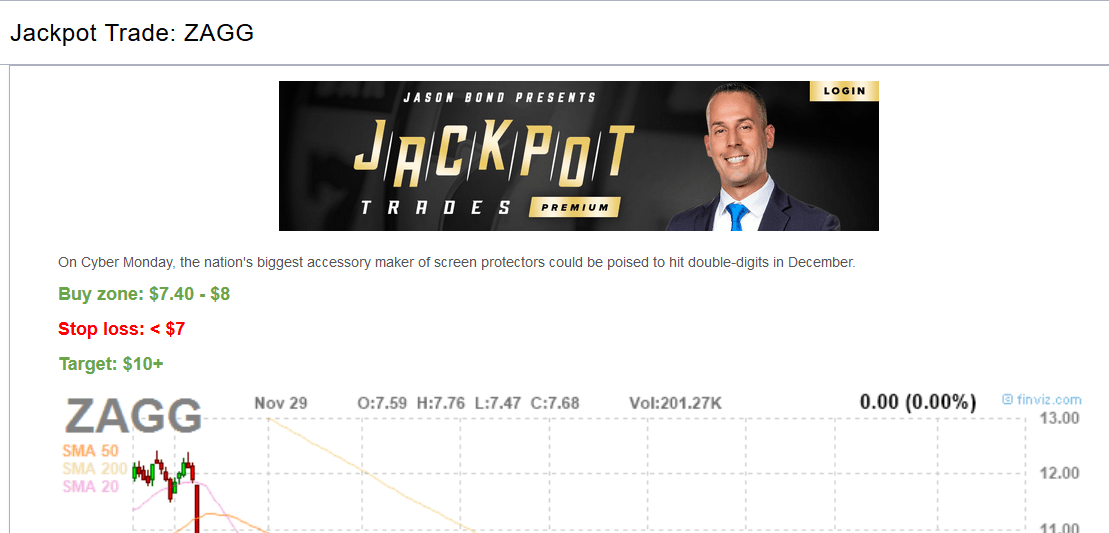 The price never dipped as low as $7.40 (the lower end of Jason's suggested buy zone). So, I bought my shares at $7.74 which was a little on the high side.
I would rather miss out on a trade than buy too high and lose money. Still, the trade worked out well as you can see from the price chart below. If you are new to trading then you might not know what each bar or candle represents. Each one is a day of trading. If it is red it means that the stock went down that day and if it is white it means it went up.
You can see that I sold our shares at $8.04 on the Wednesday, just two days later. This was not the move that we hoped for, but it was still a winner.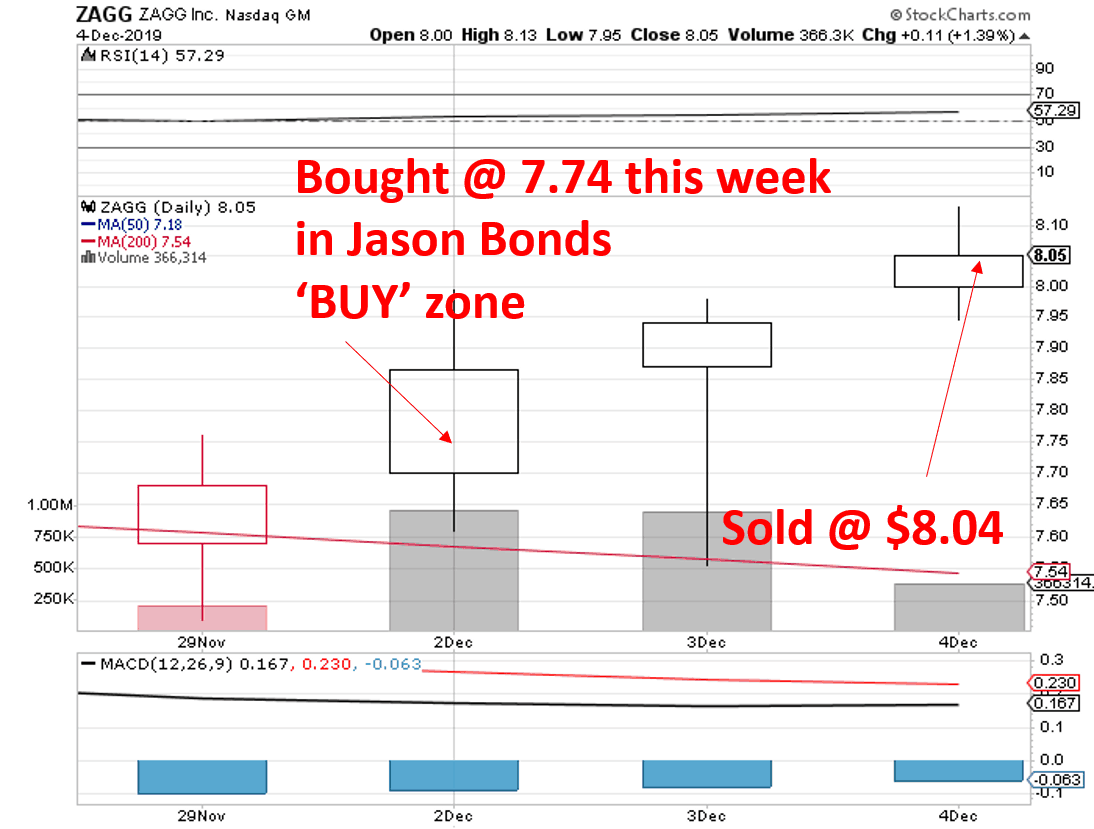 It was only 5% win and that is at the very low end of the percentage gains we hope for in these types of swing trades. The general guidelines is that a winning trade should return 5% – 20% profit in 1-4 days.
Still, $ZAGG was a reasonable trade to start with this new Jason Bond Jackpot trade alerts service. We aren't 'blown away' by his picks but they seem solid enough. They are certainly a good place to start a stock trading side hustle.
How Much Money Do you Need To Start?
Many people don't consider stock trading because they think that it requires a lot of money. This is true IF you want to become a millionaire as fast as possible. But, if you want a fun side hustle or to learn something new, you can trade with as little as you want. The rise of commission free brokerages (like RobinHood) mean that you can still make money on a winning trade even if you only have $10 in it!
A stock trading side hustle can be fun. Not just lucrative! You can start your stock trading side hustle with virtual money or a tiny amount of real money. The trick is just to start.
If you can't make winning trades with $100, then it is silly to try with $10,000! Start small and build up as your skill and confidence increases. Jason's Jackpot Trades are a good place to start in my opinion.
You can start your stock trading journey by watching Jason Bond's FREE WEBINAR and learning some more information about his three successful patterns and how he trades. I recommend doing this before you consider purchasing any service.
Conclusions – Stock Trading Side Hustle

Jason Bond is a well-known stock trading expert that has been trading for over 10 years. He has a great success record and we have been avid followers and paid subscribers for many years.
If you are new to stock trading, want to learn more and get your feet wet – we highly recommend Jason's Jackpot Trades.
To find out more about Jason's trading strategy and how to join Jackpot Trades click here for his FREE WEBINAR.
Good luck starting a stock trading side hustle!
Russell and Maleah
Related Articles
If you are looking to start a stock trading side hustle online, we highly recommend investing in a stock alerts service or education program like Jason Bond's Jackpot Trades!