Welcome to our Jeff Bishop Bullseye Trades review. In this Jeff Bishop review, you will learn why trading options can make you excellent money on the side. We will cover roughly what options are, why they are better than stocks and give you an overview of the famous Jeff Bishop strategy for trading options.
I am sure that most people have heard about trading stocks. Maybe you are an active trader, or you just have some stocks in your retirement portfolio. With longer term investments you might make 10% in a year. With options trading you can make 100%, 200% or even 500% in a single trade!
In this Jeff Bishop Bullseye Trades review, we want to show you how this is possible and give you a few free resources that you can use to learn the basics. We will introduce you to the Jeff Bishop strategy for options trading success.
YouTube Channel and Facebook Group
Come and join our stock trading alerts Facebook group (How To Make Money With Stock Alerts Services)! We also have a Stock Alerts Reviewed YouTube channel which we hope are helpful. As a new trader it's helpful to be part of a community of traders so you don't feel you are battling the market alone!
Here is my video review of my experience so far with Bullseye trades. You can also find a complete log of my trades in Jeff Bishop's Bullseye Trades here.
Disclosure: Bear in mind that some of the links in this post are affiliate links and if you go through them to make a purchase, I will earn a commission. Keep in mind that I link these companies and their products because of their quality and not because of the commission I receive from your purchases. The decision is yours, and whether or not you decide to buy something is completely up to you.
If you are in a hurry and want to learn more about Jeff Bishop's secret option trading strategy:
Get access to his exclusive FREE WEBINAR HERE!
Why Trade Options Contracts as a Side Hustle?
Trading options can take 5-10 minutes a week and the potential gains can be HUGE! Options are heavily leveraged, meaning a small movement in the price of a stock can result in massive percentage gains in profits.
An options contract is a financial instrument that is based on the price of an underlying asset – a company's stock. You can purchase an options contract (agreement) that gives you the option to execute a transaction at a preset price (called the Strike Price) before a certain date (expiration date).
For example, you might 'bet' that the price of a stock will be above say $7 per share within a month. You purchase contracts for the ability to sell X number of shares at that price before the expiration date. If your prediction comes true, you will make a lot of money!
There is way more to it than that of course. Options trading can be very complex, and it is helpful to have an expert guide to help you get started. A really great free resource is Jeff Bishop's FREE EBOOK called Option Profit Accelerator.
Luckily, this Jeff Bishop Bullseye Trades review will show you a way that you can learn how to trade options and make money throughout the process. You don't need to take this journey alone.
Download Jeff's FREE eBook 'Option Profit Accelerator' to get everything from the basics of options contracts to his secret 'Money Pattern' that has been the key to him making millions of dollars trading options. The full Jeff Bishop strategy is revealed to you all for FREE!
Who is Jeff Bishop? Is Jeff Bishop legit?
Jeff is a multi-millionaire stock trader, options trader and angel investor. He has been trading the markets for 20+ years and has literally seen every market condition.
We have followed Jeff for many years and seen the results of his options trades. Is Jeff Bishop legit in a world that is notorious for scams? Yup.
Jeff is a Mensa trader – seriously he is a member of the high IQ society that requires it's members to have an IQ above 150. Does this actually help with trading? Probably not but it is cool!
Jeff is well respected in the financial and trading communities. He has a couple of degrees from University of Texas in economics and finance, but again I am not sure how much they actually help in terms of his trading ability.
Jeff is married with three children in New Hampshire. He seems to be pretty frugal when it comes to his lifestyle and he seems to love investing and trading on a deep level.

Jeff Bishop's Trading Journey
Jeff's journey was not an easy or fast one. It started as a stock trading side hustle and switched to options trading over time.
He spent a decade trying to make money trading and started many other entrepreneurial ventures along the way. He wasn't born with a silver spoon in his mouth and he had to work for everything he has. Totally self-made!
Jeff always thought that the stock markets might be a great way to way money. He found a guy called Bob that became his stock trading mentor. Bob was the first wealthy investor that Jeff knew. Bob taught him how to manage his risk and to take high probability trades and investments.
Jeff spent 10 years learning how to trade properly and minimize his losses. He eventually figured out that he was not letting his winning trades ride up in price for long enough. When he changed this and started scaling into his winning trades (adding more shares as the price increased), he started to win BIG.
Jeff started trading with just $2,000 and he got lucky during the internet bubble. It is probably best to start trading when the times are bad! He lost $40,000 in the coming years before he started becoming consistently profitable. Trading is HARD!
Jeff learned from Confessions of a Street Addict by Jim Cramer. It is a deep insight into money and the markets.
Jeff Bishops Biggest Loss – SHOCKING!
When Jeff started trading, there were no services like the options trading alerts that Jeff sends out. He made all the mistakes in the book. Jeff's biggest loss was over $500,000!!! In a single trade….

He was overly confident and trading naked calls on the volatility index. Unfortunately, volatility went wild when he was out of communication on a family cruise and he lost the half million dollars fast.
This should serve as a warning! Jeff was an experience trader at this point, and he had made all that profit over the last year – it was wiped out in one bad trade.
Don't let this happen to you!! Learn from Jeff's mistakes and check out his Bullseye Trades service to make sure that you don't make these same errors! Click the link or the image below to get access to the FREE BULLSEYE TRADES WEBINAR to learn more.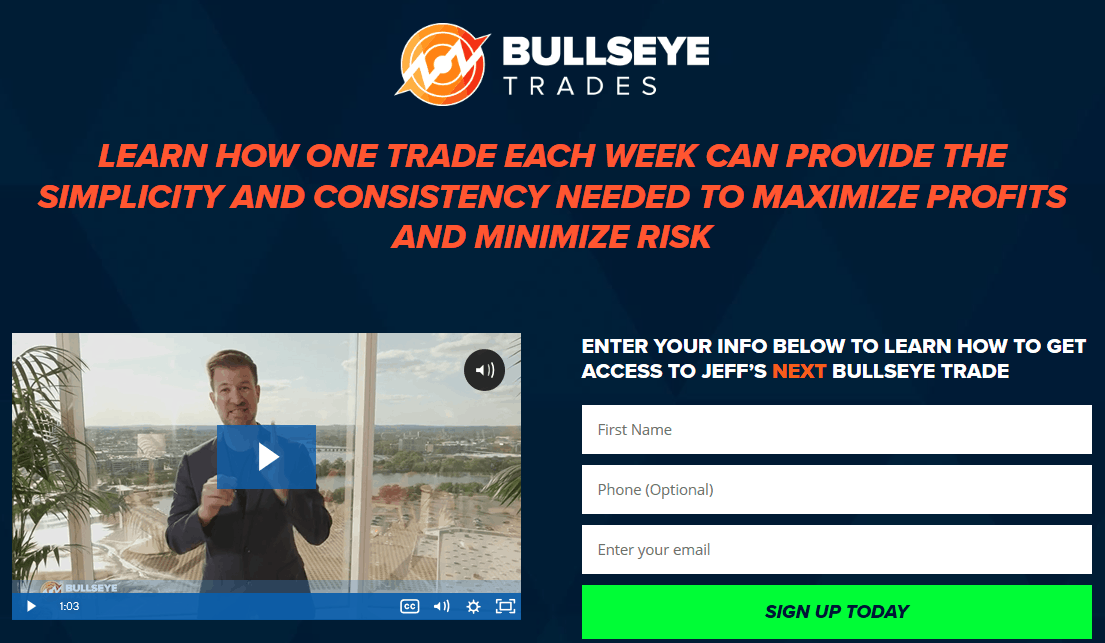 Jeff Bishop Bullseye Trades Review
Jeff started several different options trading services where he sends out educational stock alerts. The services also include educational videos and tutorials etc. Here are a couple of the services that you might want to check out:
1. Weekly Money Multiplier (recently taken over by Nathan Bear)
3. Bullseye Trades (we are discussing this one in this article!)
All of Jeff's options trading services are very popular. Here are a few recent trade examples to show you why….
Jeff Bishop Bullseye Trade Review: Example Trade 1



I want to show you that Jeff makes some great options trades. The first example is a trade that Jeff made over $100k in profits on. He purchased contracts on $FIVE and made 280% profits in a couple of days! You can see an actual screenshot from Jeff's cell phone below.
Sure, Jeff puts a lot of money into his options trades. But you can make money doing this as well with much smaller accounts. You can see the potential for a stock trading side hustle! If you had used $1,000 and replicated this trade you would have made $2,800 profit!
This trade (and the second example) were both alerted to Jeff's subscribers and many of them made huge gains as well.

Jeff Bishop Bullseye Trade Review: Example Trade 2

Jeff uses a simple pattern of moving averages to make his options trades. He has found that when the 13/30 hourly moving averages cross over, the stock will most likely move in the upwards price direction. This allows him to buy options contracts that 'bet' on this happening.
Jeff made 100% profit on option contracts based on $TRIP stock. I want to show you a little insight into his process for picking stocks that will most likely go up in price because this is at the heart of his winning options strategy.
Jeff spotted the opportunity on $TRIP when they reported really great earnings and the stock price jumped up dramatically. You can see this in the chart below when it occurred around May 10th.
The stock price started to trend sideways in a classic 'bull flag' price pattern. Then there was the crucial 13/30 moving average crossover around the 28th of May (circled in blue).
This was the combination of indicators that prompted Jeff to trade options calls on $TRIP. Neither of these are Jeff's creation – he is just good at finding and executing on them.
Jeff chose to maximize his potential profits by buying at-the-money calls on $TRIP.
Jeff does a fantastic job of explaining the complex world of the different options in his free options trading eBook.
So, once Jeff knew that $TRIP had a good chance of increasing in price, he bought call options with a $50 strike price for $1.3 each. The goal was that if $TRIP increased above $50 per share, Jeff would double his money (based on the exact options contracts).
After Jeff purchased his contracts, the stock price went up about 10% – a pretty good gain! However, Jeff doubled his money because he is an expert at using the power of options to make huge gains. The leverage is the beauty of options trading. He held some of his options for a 300% gain!!
These are just two of dozens of winning trades that Jeff's subscribers have benefited from. Of course, there are trades that lose, but the winners outweigh the losing trades.
What Do You Get with Jeff Bishop's Bullseye Trades?
With the Bullseye Trades service, you get trade alerts and some useful educational resources from Jeff.
You basically get to learn from an expert options trader and receive his BEST trade idea every week.
It is a simple and low-cost options trading service that is perfect if you want to trade options part-time as a side hustle.
Maleah and I love our stock trading side hustle and options trading is a great extension to this. It only takes one good trade a week to make a nice income with a stock trading side hustle!
Jeff Bishops Bullseye trades saves you time and money by having Jeff do all the screening, due diligence and cuts the time you actually dedicate to trading to 5-10 minutes per week!
Even if you just make an extra $100 a week with options trading – that would be fun!
Jeff's options picks often reach 50% – 500% profits on a single winning trade.
Jeff Bishop gives you more info on his Bullseye trades service in this FREE WEBINAR! He reveals his trading secrets so that you can just do one single trade a week!
Conclusions: Jeff Bishop Bullseye Option Trades
Maleah and I are excited to started trading options. We will be joining Jeff's Bullseye Trades and trading his best idea every week. A stock trading side hustle (or options trading) can be a great way to supplement your income, even if you are not trying to be a millionaire from it.
Jeff Bishop's strategy is one of the best in the business. If you want to trade options as a side hustle, be sure to check out his services to learn more.

Good Luck,
Russell and Maleah
Related Articles
Kyle Dennis Fortune Forecaster Service
Jeff Bishop Bullseye options trade are extremely profitable. I hope that I have given you enough information in this Jeff Bishop Bullseye Trades review to show you that there is no Jeff Bishop scam, that Jeff Bishop is LEGIT!