Today, I want to share with you my story of buying an already established website on Flippa.com. Did we get ripped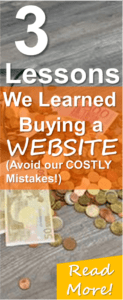 off? Read on to find out!
Setting up a website from scratch and earning the first few dollars in affiliate commissions can be a frustrating and difficult process for the new affiliate marketer – however it is totally worth it!
We have started websites and blogs on WordPress with great success, however, as any experienced online entrepreneur will know, the process of setting up a new site from scratch is hard work and time consuming.
There is just so much to do – find hosting, buy a domain, write articles, test, test again, market it and the list just goes on and on.
A few months ago we decided to buy an established website from Flippa. Maybe it was just laziness. We have had four years of affiliate marketing experience so we basically re-invested some of the profits back into what we thought would be a positive cash flowing asset.
In this post we want to reveal what happened when we purchased a website claiming to be generating affiliate commissions passively on a daily basis.
Side Note: Are you interested in starting a blog? Want to be able to produce a monthly online income report of $10K+ like this one? Check out our tutorial that will help you start a blog of your own for only $3.49 per month (it's a tiny cost for blog hosting compared to the potential profits that are possible!).
Disclosure: Please note that some of the links on this page are affiliate links. This means that we may earn a commission, at no cost to you, if you decide to make a purchase after clicking through the link. Please understand that we have experienced all of these companies, and we recommend them because they are helpful and useful, not because of the small commissions that we receive if you decide to buy something through our links. Please do not spend any money on these products unless you feel you need them or that they will help you achieve your goals.
If you sign up through our Bluehost link you will also get a free blog domain name and the lowest possible price for hosting. Be sure to check out our recommendations page for tons of exceptionally useful tools that we have used to make money online. We love them all and we are sure you will as well!
Buying a Website on Flippa – www.Rescuemyhair.net
We purchased the website from Flippa.com for $4,000. It is an Amazon review site that reviews hair loss products like natural shampoo, conditioners and other products that have great reviews on Amazon. The website is called Rescuemyhair and here is a screen shot of the home page:
We bought this website https://www.rescuemyhair.net because we knew we would learn a ton of valuable information from it! We have never owned or built an Amazon Affiliate Review site until now. We were right – we learned so much from buying this site!
So Was Our New Website a Scam ?
We did all our due diligence before buying the website. We verified that the organic traffic that was claimed by the seller (about 200 visitors per day) was legitimate buy using free tools like Semrush.com. Next we checked that the seller had a legitimate record of positive sales and chatted with him extensively. He seemed like a legitimate seller.
**Update 12/10/17 I visited Flippa today and noticed that the seller had been banned from Flippa. Not good!
The claimed Amazon affiliate revenues for the site were rather low ($40 – $120 per month) for the asking price and in retrospect we grossly over paid for the site.
As a precaution, we purchased the site using an escrow service so that we would have 10 days or so to verify that the site was genuinely making money and that the traffic was genuine. We know that many people get scammed buying sites so we were pretty paranoid.
However, everything has worked OK and the site continues to generate some passive income from Amazon sales in a rather high competition niche! For the more experienced Amazon affiliates you may be interested in knowing the stats:
1. Click thru rate of 8% from the site to Amazon
2. Visitors on Amazon are converting at 7.7% which is pretty decent!
3. We are getting about 150 visitors per day which is a little less than advertised by the seller but we are not complaining.
**Update: Traffic has continued to fall over the last few months and we feel that we were 'scammed' afterall. I suspect that Google has penalized the site, probably due to black hat methods used to rank the site by the seller. The only hint of this at purchase was a large amount of 'back links' that might be considered 'spammy'. 
Conclusions
We am glad we bought the Rescuemyhair website since we are learning SO much about how to convert traffic. Amazon only pays 4% affiliate commission so it takes a lot of sales to make decent affiliate income. Here is the 3 main lessons that we learned from buying this website:
This site is forcing us to really work on improving our skills in converting visitors to buyers and work on developing our skills in driving organic google traffic to the site. It was very nicely setup (nice theme and carefully placed Amazon affiliate links).
If we buy another website from Flippa, we will be very careful to not over pay. We paid $4000 and this site is really only making $15 – $25 per month at this point (the traffic has crashed horribly as described above). This is not a good investment in my opinion.
The site is based on natural cures for baldness. This is not a subject that we know much about! This was a HUGE mistake as neither of us has the motivation to write articles about it! The lesson is to only work on sites that we LOVE or we will just give up.
We have decided to just stick with building our own sites from scratch (Check out our tutorial on How To Start A Website) as the risk-reward ratio is much more in our favor.
BE CAREFUL when buying sites from Flippa!
Does anyone else have any experiences buying websites that they can share with me? Please leave comments about your experiences buying a website on Flippa!
Russell
Related Articles: