Welcome to our Qmee app review. In this article, you will learn how to use Qmee with Google search and how to complete paid surveys to earn some extra cash.
The following is a sponsored post. All opinions are 100% our own.
Disclaimer: There are affiliate links on this page. This means that if you click through and purchase anything, I could possibly make a commission without adding any extra cost to you.
LEARN HOW TO WIN 90% OF YOU TRADES IN 90 SECONDS!
>>CLICK HERE TO LEARN MORE! <<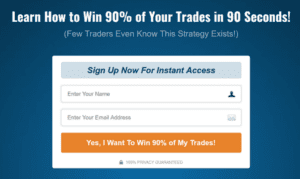 Bullseye Trades: Best Alerts Service

Every Monday at the market open, Jeff sends you his weekly Bullseye Trade.
2022 has been AMAZING for these Bullseye Trades!
(+50% to 300% per week in my experience)
SIDENOTE! INVESTING DIVA!
You are invited to
attend a free webinar
by my friend, Kiana Danial. She is a professor of Wealth Management at Baruch College in New York, and has a decade of experience in the forex, stocks and ETF markets.
In this exclusive free webinar, Kiana will reveal her personal secrets and the exact strategies she uses for her university students to:
– Make more in one day getting their money to work for THEM, than they can a MONTH working a 9-5 job.
– NOT having to stick to their screen and analyze the markets all the time
– Start with A LITTLE initial investment
*** Plus – You'll get A FREE copy of her trading hacks e-book just for signing up today!
There are very limited seats available so claim yours now!
We recently found a new app that people are using to make some extra money online by completing surveys and searching on Google.
The free app is called Qmee. If you have ever looked for money-making apps online, you will most likely have come across Qmee.
We are always looking for small changes that we can make in our daily routines that will result in either making more money or saving more money. Qmee has helped us to make and save a little bit of extra money every day.
Qmee pays you to take online surveys, but the biggest appeal for us was that they pay you just for searching and shopping online.
When we read that Qmee pays you if you click on their suggestions when you are browsing the internet – we had to try it out!
This is our honest review of Qmee. We love what we found and hopefully, you do to! Read on if you would like to learn how to use Qmee with Google search to make a little extra money with almost no effort.
About Qmee
Qmee is a free app that is available as a browser extension and mobile app that allows you to make some extra money online. It works on your laptop, desktop or mobile devices.
Qmee was established in 2012 to build a connection between consumers and brands that would benefit both. Qmee has headquarters in New York and London. They currently operate in the U.S., Canada, Australia and the U.K. There are plans to expand to other countries soon.
How Does Qmee Work?
I installed the Qmee Firefox browser extension on my laptop to test it out. I spend most of the day on my laptop, so I figured that during breaks I could make a little extra money with it.
Qmee gives you two main ways to earn some extra money:
Installing the Qmee browser extension and get paid to click on relevant search results
Qmee pays you to complete online surveys for companies and brands
How to Use Qmee with Google and Earn by Clicking Search Results
It was extremely easy to install Qmee. The browser extension enhances your Google searches by adding relevant search results on the left of your screen. You can see what happens when I search for 'reclining sofa' on Google (below).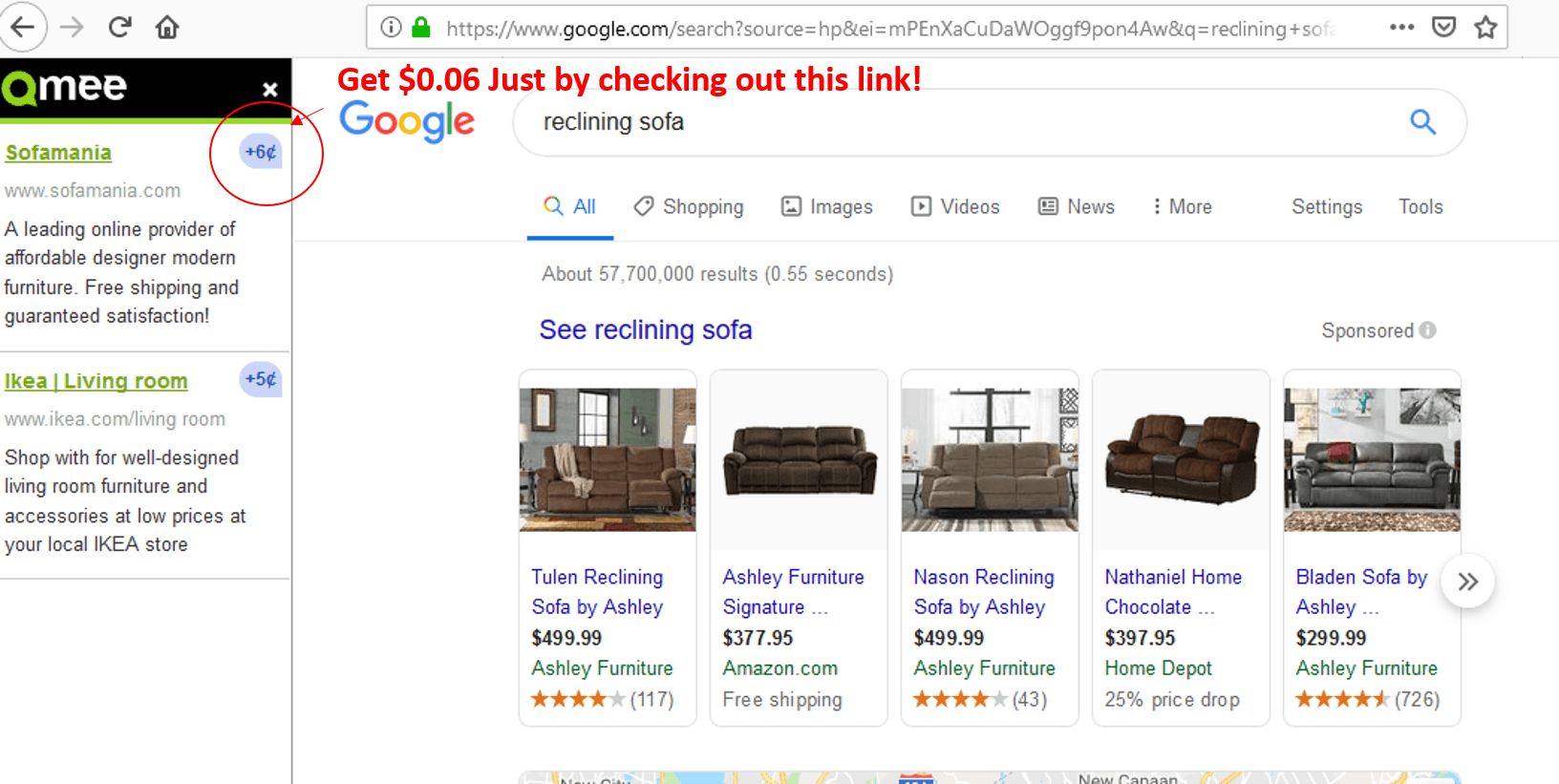 This is how to use Qmee with Google to make money just by clicking on related suggestions to your search query! The clever algorithm that Qmee uses ensures that the suggestions on the left (that Qmee gives you) are as relevant as possible to what you are looking for.
Pretty cool right? Just click the most relevant Qmee suggestion and see if what you are looking for can be found on that site. In my example above, Sofamania.com and Ikea both have some great reclining sofas for me to check out. Even if you don't end up making a purchase, you will still earn a small amount of money (circled in red in the pic) just for clicking through to the site.
In the example above we earned $0.11 just for checking out Ikea and Sofamania for reclining sofas. We would have done that anyway (we LOVE Ikea!), so to earn a small amount of money with no effort is great.
Just remember that you will not get rich from your searches. Not every search will have Qmee results and the ones that do will only be for a few pennies.
How to Use Qmee to Get Voucher Codes for Online Purchases
We also found that Qmee frequently offers you coupon or discount vouchers for the items that you are shopping for. They appear on the left side of your browser. We searched for 'pet toys' and you can see the special offers and coupon codes for relevant articles appear on the left.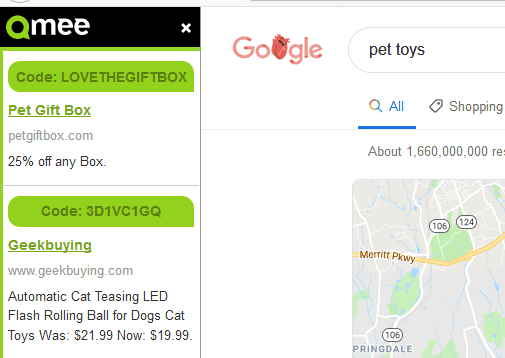 Qmee usually offers relevant offers but they are not always 100% relevant to your search. The discount codes do appear very frequently which is nice.
How to Use Qmee to Complete Paid Online Surveys
Qmee also offers the option to make a little extra money other than by shopping on Google. You can complete paid surveys to earn some extra money.
We have a lot of experience with paid survey sites, so we tested out some of the paid surveys that Qmee offers. Here is what we found.
Qmee offers plenty of surveys to complete. The idea is that companies will pay you for providing them with insights into your consumer habits. What you buy, why you buy it and what you would like in a product is all extremely valuable information for them. It helps guide their marketing and product development.
Here is a screenshot of the survey opportunities that are currently available on my Qmee dashboard. They change regularly and there always seems to be something to complete.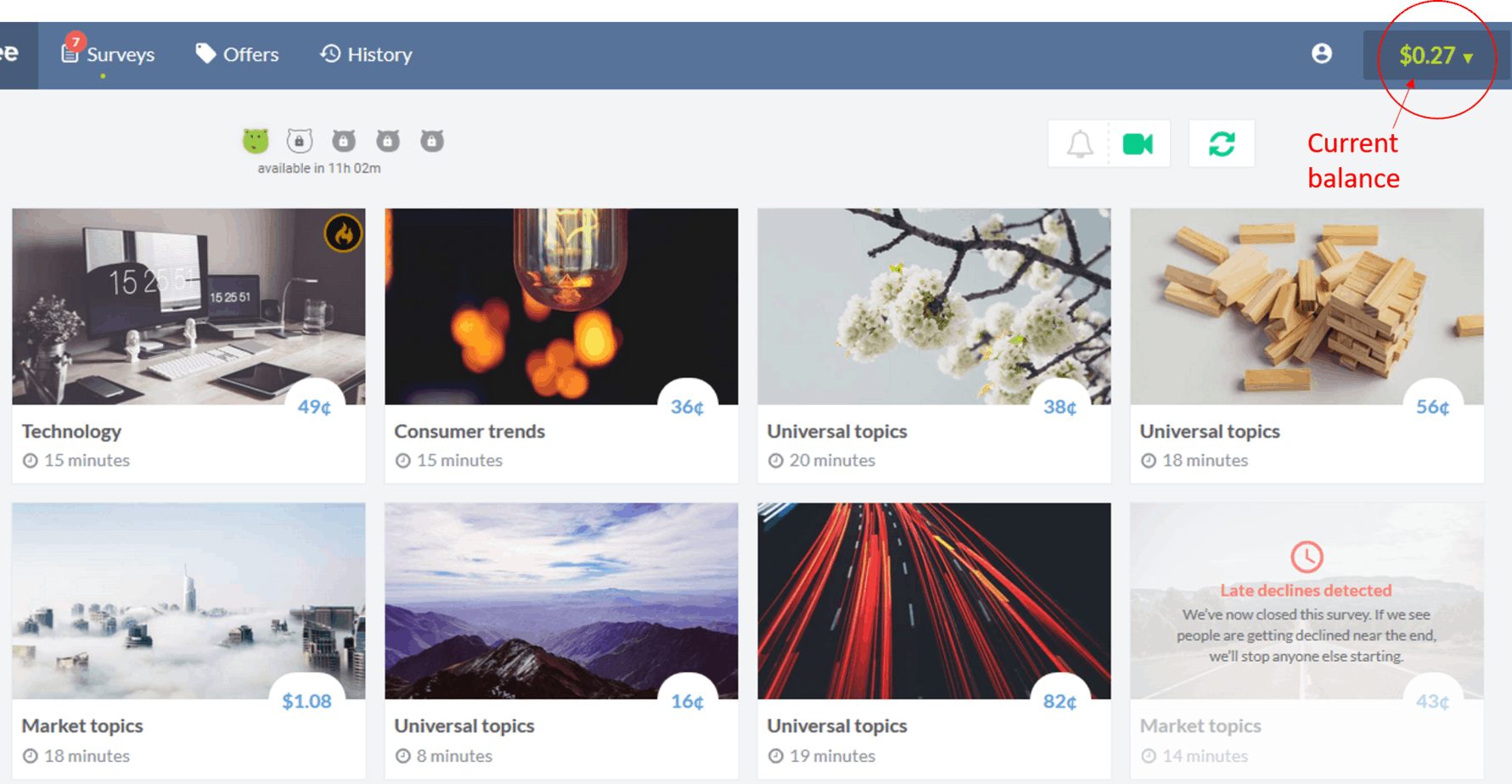 Qmee partners with many other survey sites to bring you a huge variety of paid survey opportunities. This is great, and it solves one of the biggest challenges that we have encountered with paid survey sites. There is always something to complete!
The surveys tend to be very varied, which is nice because completing the same types of surveys can become very tedious.
The pay per survey varies quite a lot. Sometimes a survey will pay you $0.30 and another one will pay you $1.00+ for a similar amount of time. This is true with most survey sites and I always try to select the surveys that offer the best pay per minute of my time.
One thing that I like about the surveys on Qmee is that they do regulate the surveys a bit. So, if Qmee detects that a survey is rejecting people before the end of a survey or if the survey has stopped accepting new applicants – Qmee will close it down. They issue a warning and close the survey. This is a nice touch as it minimizes the chance of your time being wasted.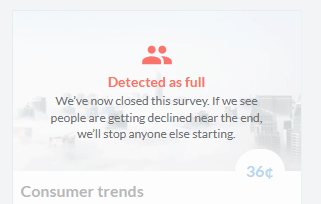 Qmee surveys are some of the best that we have found for availability and the rate of pay. I have found myself spending time completing some of the shorter surveys while I am listening to a podcast.
I regularly pay for my morning coffee by completing a few of paid surveys on Qmee.
LEARN HOW TO WIN 90% OF YOU TRADES IN 90 SECONDS!
>>CLICK HERE TO LEARN MORE! <<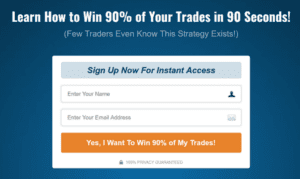 Bullseye Trades: Best Alerts Service

Every Monday at the market open, Jeff sends you his weekly Bullseye Trade.
2022 has been AMAZING for these Bullseye Trades!
(+50% to 300% per week in my experience)
Qmee Special Offers
There is a section in the Qmee dashboard where you can find some special offers for signing up for things like credit repair services and meal plan services. These offers seem slightly limited, but they could potentially offer some nice deals.
Qmee App Review – Legitimate App?
After testing the Qmee app, I can assure you that the company is legitimate. This is backed up by their great reputation on sites like TrustPilot. The most negative feedback that I have found is that the surveys can be quite difficult to qualify for. This is unfortunate, but a common problem with most paid survey sites. In my opinion, Qmee does an excellent job trying to stop surveys that will waste the users time.
How You Get Paid on Qmee
Qmee is the best platform of its kind when it comes to payment. You can get paid within minutes via PayPal. There is no minimum payment threshold (we cashed out $0.05 to test it!) and it is instantly deposited in your PayPal account.
We have never seen anything as good as this payout system in any other survey site. This is a big deal because it really keeps you motivated to be able to cash out as soon as you finish a survey.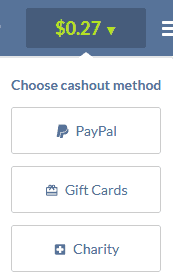 With many other survey sites, people will give up before they meet the payment threshold (typically $10) and they will forfeit their payment. This is not the case with Qmee!
Qmee Tips and Tricks
I have a few words of advice for you if you are starting out with Qmee. These are tips and tricks that I learned as I used the Qmee app:
Don't try and trick the system. It won't work!
Use the search function naturally and don't try to search things just to make money clicking on the Qmee results.
Make sure that you signup for survey notifications to maximize your chances of earning money.
If you are having problems qualifying for surveys, don't be demoralized. You will qualify for some if you keep trying.
Qmee App Review Conclusions
We love the user interface on Qmee. It is fun and easy to use! It is very easy to learn how to use Qmee and start earning small, but consistent amounts of money.
Qmee helps us pay for our daily coffees without much effort. If you have realistic expectations for the app, you will love using Qmee daily to earn some extra cash.
Be sure to check out Qmee and try it out. We think that you will love it!
Good luck!
Russell and Maleah
Related Articles
High Paying Side Hustles for Women
10 Paid Survey Sites that Pay Well
Top Home-Based Jobs for Introverts
We hope that you have found this Qmee app review helpful and let us know what you think of Qmee in the comments below.