Are you a novice proofreader? Here are some of the best online proofreading jobs for beginners that can help you to make money online as a freelance proofreader. We give you links to the best online proofreading jobs for beginners and the best proofreading courses online + legal proofreading courses you don't want to miss.

Disclaimer: There are affiliate links on this page. This means that if you click through and purchase anything, I could possibly make a commission without adding any extra cost to you.
SIDENOTE! INVESTING DIVA!
You are invited to
attend a free webinar
by my friend, Kiana Danial. She is a professor of Wealth Management at Baruch College in New York, and has a decade of experience in the forex, stocks and ETF markets.
In this exclusive free webinar, Kiana will reveal her personal secrets and the exact strategies she uses for her university students to:
– Make more in one day getting their money to work for THEM, than they can a MONTH working a 9-5 job.
– NOT having to stick to their screen and analyze the markets all the time
– Start with A LITTLE initial investment
*** Plus – You'll get A FREE copy of her trading hacks e-book just for signing up today!
There are very limited seats available so claim yours now!
I started to get interested in freelance proofreading when I met my proofreading friend Stephanie. She had made a great income from proofreading online and she explained to me why she started proofreading and where she found all the best online proofreading jobs for beginners and expert proofreaders.
In this article you will find a list of all the best online proofreading jobs for beginners. Some of these are places where you can find freelance work, and some are actual jobs. But first let's take a quick look at why you might want to be a proofreader in the first place.
Why are proofreaders needed if we have spell-checker software?
We are in the era of online content creation. All of this new content needs to be written and then checked for errors before publishing. Bloggers (like us) and many other online small business owners rely on online content to make money and grow our businesses.
This rapid growth in online content has created a huge demand for online proofreaders and editors. There is nothing like the human brain for proofreading and it beats even the most sophisticated spell-checker and grammar software.
Spell-checker software is very helpful, but it is not enough if you want the highest quality work. The main problem is that most spell-checkers cannot distinguish the correct context of a phrase.
For example if you write 'I here you loud and clear' Microsoft Word spell-checker will think that everything is just fine! You can make a lot of mistakes and most spell-checkers will not pick them up. Proofreaders can help you with many additional concerns such as sentences that are too wordy and hard to read. Most spell-checkers will not address this type of style editing.
As you can probably tell, we do not invest a lot of time in proofreading (haha!) but many people will not publish an online document without rigorous proofreading.
What exactly do proofreaders do?
Proofreaders are usually the last people to check over the document. Their role comes after everyone else has done their work (e.g. authors, editors and graphics etc.). The proofreader comes into the project to spot mistakes that the other project participants might have missed.
Here is a brief summary of the main tasks that a proofreader performs:
Ensures that the spelling and grammar are perfect
Makes sure that the punctuation is perfect
Checks for consistency
They ensure that the figures are properly captioned and referenced correctly in the text
Although it helps to have an 'eagle eye' for spotting mistakes, it is not enough to become a good proofreader. You really need some specialized trading.
Proofreaders are employed to proofread documents from blog posts to self-published books.
What training does a proofreader need?
Many people think that because they are good at spotting mistakes that they can just start proofreading for clients. Unfortunately, most people will not be able to proofread well unless they undergo some form of training.
A proofreader has to abide by a standard Style Guide. Most people are not familiar with these style guides or even aware that they exist!
Taking a free or paid course will set you on the fast track to making money online as a freelance proofreader!
How to Find Online Proofreading Jobs for Beginners
It can be quite intimidating to find online proofreading jobs for beginners. If you are trying to find a company to work for, it might be quite a while before you hear back after you apply. The companies will often ask you to pass a proofreading test before they will hire you.
The hassle involved with working for a company is why we recommend becoming a freelance proofreader and finding your own clients!
Places to find proofreading positions from home
If you have a degree in English, it can help you to get some of the higher paying jobs in proofreading. You don't need an English degree, but it can really help.
In the video below, you will find some of the best online spell checker jobs, editing and proofreading jobs that you can do from home. We have also listed some of the best websites to find proofreading jobs online.
Proofreading Jobs for Beginners
Domainite offers proofreading positions from home and they pay every 7 days via PayPal.
Kibin sometimes hires proofreaders for remote work.
ProofreadingPal hires experience proofreaders, so maybe only apply if you have at least a few years of proofreading experience.
Indeed.com search for proofreading jobs on this site to find any positions that are available.
FlexJobs.com is a premium network for work at home jobs. We love it! It does cost $15 per month to join though. They often have proofreading jobs.
Proofread Now they don't usually offer online proofreading jobs for beginners, but they are worth a try. They will hire proofreaders with a few years of experience.
Gramlee – These guys are great!
ProofreadingServices.com they pay people to proofread and teach English online.
These are just some of the sites that will employ you as a proofreader. A quick Google search will reveal a lot more online spell checker jobs for you to apply to.
How to get freelance online proofreading jobs for beginners
One of the easiest ways to get clients for freelance proofreading jobs is to join Facebook groups for writers, bloggers and other content producing online entrepreneurs. Some of my friends get ALL of their clients this way!
Apparently, you can also do a similar thing with LinkedIn groups as well – but we haven't tried that.
You can also try freelance sites like:
How much can you expect to make as a proofreader?
Beginner proofreaders do not get paid well. I don't want to lead you on! You will be lucky to make $5 per hour when you are first starting out. However, as a freelance proofreader you can set you own rates.
Once you are experienced as a freelance proofreader, you can charge anywhere from $25 to $100 per hour. This is certainly worth the hard work required to get there if you love proofreading!
The primary benefit of working as a freelance proofreader online is the flexible working hours. If you are looking to be able to work from anywhere and live the life of your dreams – consider becoming a freelance proofreader. You could also supplement your proofreading income by working as a virtual assistant or starting a blog.
Professional proofreaders have the freedom to work from anywhere and make a full-time living working part-time!
One of the best legal proofreading courses to maximize your earnings
If you can specialize in the highest paying proofreading jobs (usually court transcripts) then you have a better chance of making more money. Check out one of the best legal proofreading courses by Caitlin Pyle to learn how to make the most money.
My friend Stephanie was a professional proofreader that got started with the best legal proofreading courses and specialized in legal proofreading. You can read her whole story here.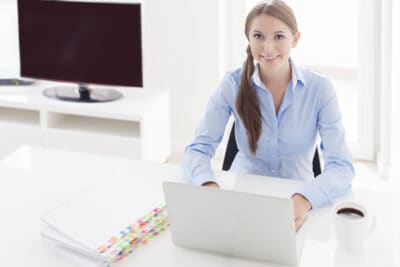 Conclusions – are online spell checker jobs for you?
Proofreading jobs can be quite competitive. But there are many good jobs out there for you to make a decent living with. Sure, you will never become rich as a proofreader, but it can be a great side hustle or part-time work to help make ends meet. Some people do make a full-time living with proofreading, but you have to be prepared to really work hard and take on a lot of work.
In my opinion, freelance proofreading for legal reporters is the best paid niche in proofreading. It is a very specialized skill that takes extra training, but it can pay as much as $100 per hour for certain jobs.
Good luck!
Russell and Maleah
Related Articles
How to start proofreading as a side hustle
How to Earn $47,000+ a Year as a Freelance Proofreader
How to Proofread Anywhere and Work from Home
How to Pay Off Your Student Loans
13 Ways to Make Extra Money FAST!
Become a Freelance Proofreader Online and Make $100 per hour!
The 8 Best Home-Based Jobs to Pay Off Student Loans
Learn Proofreading and Work from Home
How to Become a Successful Virtual Assistant
I hope that you found this article about online proofreading jobs for beginners and legal proofreading courses helpful! The best online spell checker jobs can pay quite well. Professional proofreaders have the freedom to work from anywhere!