There are so many awesome ways to make $50 a day from home fast! If you want to learn how to earn $50 daily online, be sure to check out this article!
Do you need to make 50 dollars right now? Today, we are going to show you how to make 50 dollars fast online. There are many ways to do this, from starting a freelance business to completing bonus sign up offers or paid surveys.
Disclosure: Bear in mind that some of the links in this post are affiliate links and if you go through them to make a purchase, I will earn a commission. Keep in mind that I link these companies and their products because of their quality and not because of the commission I receive from your purchases. The decision is yours, and whether or not you decide to buy something is completely up to you.
SIDENOTE! INVESTING DIVA!
You are invited to
attend a free webinar
by my friend, Kiana Danial. She is a professor of Wealth Management at Baruch College in New York, and has a decade of experience in the forex, stocks and ETF markets.
In this exclusive free webinar, Kiana will reveal her personal secrets and the exact strategies she uses for her university students to:
– Make more in one day getting their money to work for THEM, than they can a MONTH working a 9-5 job.
– NOT having to stick to their screen and analyze the markets all the time
– Start with A LITTLE initial investment
*** Plus – You'll get A FREE copy of her trading hacks e-book just for signing up today!
There are very limited seats available so claim yours now!
The items on this list are our favorite ways to make $50 a day from home fast and for free. Let's get started!
1) White Board Animation Work on Fiverr.com ($30 – $100+ a day)
You know those videos that you see on YouTube where a mysterious hand draws out the message?
Check out the video below if you aren't sure what we mean!
People love these types of simple explanation videos. They are often used in online ads or YouTube videos.
One of the best ways to make $50 a day from home fast is to make these short (less than a minute!) whiteboard animation videos. The demand is very high, and they are not difficult to make. You can use some low-cost software that pretty much does anything you want it to do.
People will buy these short animated explainer videos from you for $100 each. If you enjoy being digitally creative and making some good money, then you really can't go wrong with this side hustle!
If you check out Fiverr.com and search for 'Whiteboard animation video' you will see that the demand is very high. Just check out the gig that I found below. This guy has over 2000 reviews and almost 20 orders in the queue.
He charges $120 – $300 per video! Once you learn how to do the animations (pretty easy), then making these whiteboard videos might well be one of the easiest ways to make $50 a day from home fast.
Here is a good article that we found that discusses where to get the best free animation software to make these videos.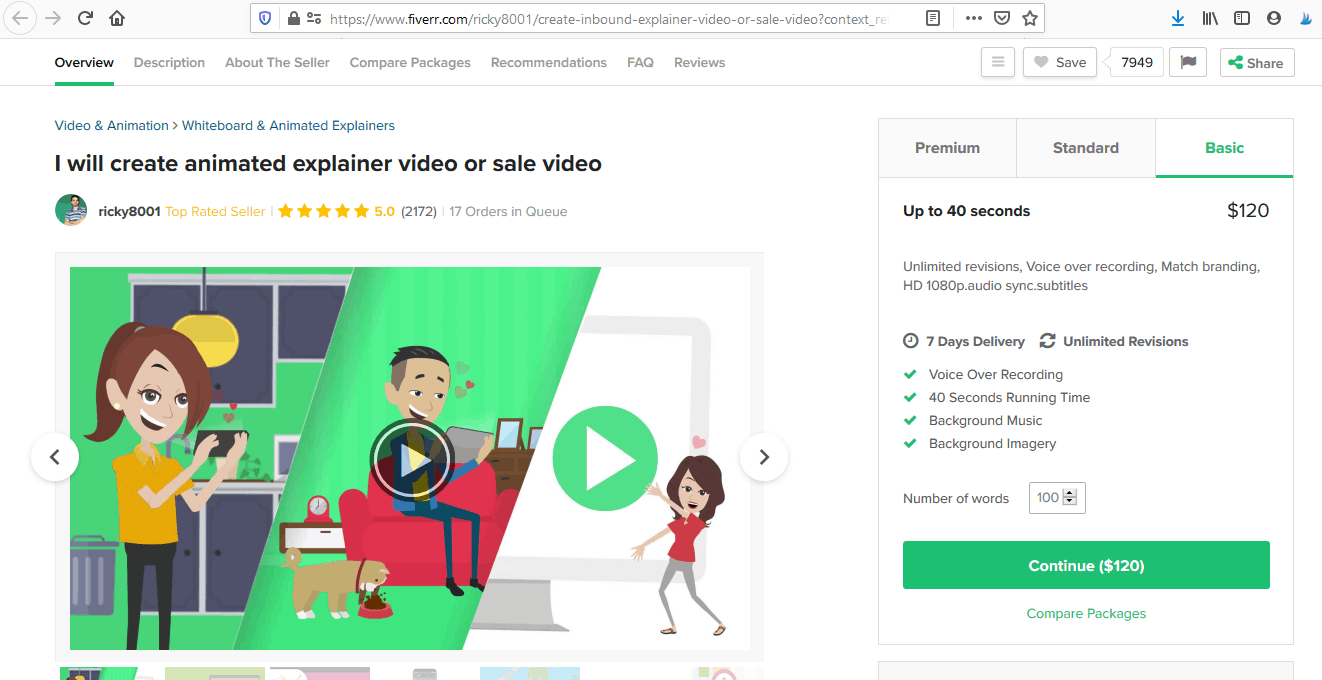 Learning how to earn $50 daily online by selling your whiteboard animation services is not difficult. The earning potential of this side businesses is huge!
2) Online Paid Survey Sites
Many people don't know how to earn $50 daily online. What if you don't have any skills or desire to become a freelancer? Paid surveys might be a good way for you to start.
Many websites will let you sign up and start completing short surveys online and get paid to do it. Companies are more than willing to pay for this because it is extremely valuable market research for them.
The type of survey question vary dramatically, but usually the theme is focused on what you purchase and why. Often the questions will be around a particular product and try to gauge if you would buy it and why. This helps companies to guide their marketing and understand their customers better.
Here are our favorite paid survey sites that can help you to make $50 daily online. It is unlikely that you will make your full $50 a day just by completing surveys alone, but they can help add a few dollars to get you closer to that goal.
1. Survey Junkie
Survey Junkie is our favorite paid survey site. They pay very competitive rates and the surveys are relatively interesting. The user interface is really clean and easy to understand so that you can focus on just completing the surveys and getting paid!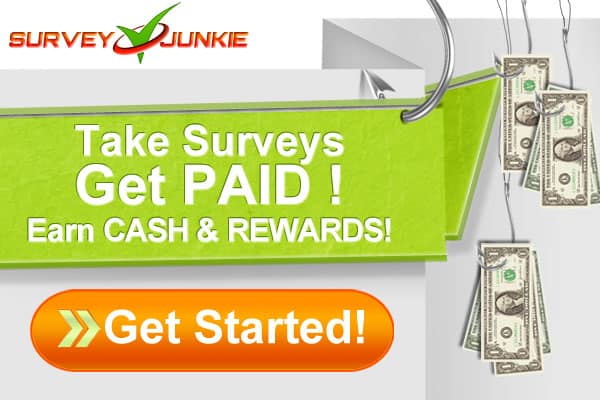 2. Qmee
Qmee is a fantastic site that offers some great free surveys as well as many other ways to make money. The best part is that Qmee has no minimum payout threshold and you can literally transfer any earnings instantly to your PayPal.
We make money on Qmee on a daily basis. Check out our Qmee review!
3. Vindale Research
Vindale Research is another pretty good survey site. While it is not as good as Survey Junkie, it is worth signing up for because it will help you get access to more surveys and maximize your earnings.
You probably won't make as much as $50 a day with these sites. But if you combine them with other ways to make $50 online, you will be well on your way to a nice side income online.
3) Teach English Online ($22 Per Hour)
Teaching English to foreign students online is a great way to make some extra money. You can learn how to make 50 dollars a day online for free without any qualifications! You don't need an English Degree (a 4-year degree is helpful though and it can be in any subject).
One of the best known sites for teaching English to Chinese kids is called VIPKID. If you live in the U.S or Canada, you are eligible to work as a teacher on the VIPKID platform.
Classes are typically 30 mins and the pay is about $22 per hour. You have to do a mock lesson and present it to the interviewers in order to be able to use the site. But it is very easy and can actually be quite fun!
We recently wrote a couple of articles all about teaching English as a side hustle:
How to Make $22 an Hour Teaching English Online
How to Teach English as a Second Language with No Degree
So, how to earn $50 daily online by teaching English? Well, you will need to teach a minimum of 4 classes a day to be able to make $50 daily. This is possible once you get established on VIPKID and some other sites. The nice thing is that you can pick and choose your schedule and tailor your work to fit your lifestyle.
4) Sell Your Stuff on eBay
Want to know how to make 50 dollars fast online?
You can sell your clutter on eBay and make hundreds or thousands of dollars very quickly. We recently did this and made over $5,000 in a few weeks!
Do you have a big pile of clothes you don't wear? Sell them online and make money from them!
Learning how to sell your stuff online is a very valuable skill that you can use to make money whenever you need it. You can sell pretty much anything on eBay so whenever anyone asks us how to make 50 dollars fast online, we always tell them that the fastest way is to sell your stuff. Everyone has something that they can sell that they never use.
Here are some of the weirdest things that you can sell on eBay.
We have written extensively about making money on eBay (like this article on how to make $800 in a week).
5) Sell Printables
One great way to earn $50 a day online is to sell printables on Etsy. We know several people that are making money by doing this. One of our friends is making a FORTUNE selling printables. Selling printables on Etsy is easy and a great side hustle to make extra money online.
Printables are digital designs that a people can purchase, download, and then print at home. The best part about selling printables is that once you create the design, you can sell unlimited copies with no additional work needed.
Anyone can do it! It helps if you have a creative streak, but it is not required.
People are making amazing money (way more than $50 a day!). You can do this side hustle even if you have no background or training in graphic design. Many people that have never used Etsy or think of themselves as creative have successfully started a printable business.
If creating and selling simple printables is something that is appealing to you, check out the awesome video below about how to make money by selling printables on Etsy.
You can also sell printables on your website or on a platform like Shopify.
6) RobinHood: Make 50 Dollars Right Now
If you want to know how to make 50 dollars fast online – sign up for RobinHood through this link.
When you sign up you will receive a stock worth anywhere from $5 to $200! You can sell the stock and cash out to your bank account. It is that easy. If you want to continue to make money, you can refer your friends and family with your own referral link, and you will both receive a free stock.
7) Credit Card Sign Up Bonuses: How to Make 50 Dollars Fast Online
The best make to make 50 dollars right now is to sign up for a new credit card that is offering a bonus if you open a new account.
Credit card companies offer these cash bonuses as a way to entice in new customers. We have made thousands of dollars by signing up for these types of credit cards.
We have received cash bonuses in the range of $50 – $600 per card just for signing up.
Usually you just have to spend a certain amount of money in a defined period of time to be eligible for the bonus. Sometimes it is as simple as making one purchase with the new card.
We always make sure that there is no annual fee that will negate the bonus and we only pay for our usual monthly expenses with the card. We also make sure to pay off the full balance to avoid interest.
You can earn thousands of dollars a year from these sign up bonuses. The trick is to be able to find and organize all the different offers out there. We highly recommend checking out Travel Freely where the owner (Zac) teaches EVERYTHING you need to know about making money with credit card bonuses. He offers many free tools for maximizing your earnings and minimizing the time you spend on finding cards etc.
8) Work on An Online Mock Jury
We recently came across an interesting method about how to make 50 dollars a day online for free. Sometimes, you can make $100 a day with this side hustle.
Did you know that you can make money as a mock juror online? Lawyers need to test run their cases before they present to a real court, so they often hire people to test their case on. The idea is that they want your feedback on the strength of their argument so that they can refine it for the real court.
Many websites allow mock jurors to register and work from home.
The rate of pay is about $50 per hour, but the work is sporadic. This is not something that you can expect to get 40 hours a week or work from. However, it is an easy side hustle to make a quick $50 extra online.
9) Start Freelance Proofreading
Freelance proofreading is a great way to make $50 per hour online. As the digital content world continues to grow rapidly, there is an ever increasing need for people to read and correct that content.
Maybe you spotted some grammatical errors or a few typos in this article? If so, then you might just have the 'eagle eye' that would make you perfect for freelance proofreading!
Proofreading can be very lucrative if you are looking for a side hustle or even a new freelance career. The trick is knowing where to start!
10) Start a Blog
A blog or website is a long-term investment. You won't make 50 dollars right now or even next week!
However, if you work hard at it and monetize correctly, you can easily make $50 a day or even $50 an hour online. Once your site is established you can make money while you sleep!
You can blog about anything you are passionate about. For us it is personal finance (obviously!). People make money in almost all niches from 'Mommy' blogs to home decor.
Bloggers earn money from displaying ads on their sites or by selling products.
Starting a blog can be fun and doesn't cost much. We wrote a guide about how to start a WordPress blog (like this one) to show you how you can setup a blog and potentially make $50 a day online for free!
Conclusions
Did we help you learn how to earn $50 daily online? Some of the ways to make $50 a day from home fast take a while to get setup or started. Other side hustles allow you to make 50 dollars right now!
Make sure that you show your friends how to make 50 dollars fast online! Money is a big issue in today's society and showing someone how to make 50 dollars a day online for free can really change their lives.
We hope that one of those people is you!
Good Luck,
Russell and Maleah
Related Articles
How to make $100 on the side FAST!
The best teaching English side hustle jobs online
High paying side hustles for working moms
How to make money instantly online for free
How to make money freelance writing and traveling
How to earn money on Google for FREE ASAP!
We hope that you enjoyed our article about ways to make $50 a day from home FAST! Hopefully we showed you how to earn $50 daily online, how to make 50 dollars right now, how to make 50 dollars fast online or how to make 50 dollars a day online for free!