The Top Cash Back Websites That We Could Find (TopCashBack, Ebates, MyPoints and SwagBucks)
Nothing tops cash back as a passive way to make some extra money online.
My Wife and I are quite frugal, despite our household income being above average. Just a few years ago we were struggling to make ends meet and we developed a few frugal habits that have remained, despite our increased income. One tactic we have used to make a little bit of money back on all our online purchases are cash back websites. Websites like TopCashBack and Ebates are a really great way to make some cash-back on your online purchases.
Side Note: Are you interested in starting a blog? Want to be able to produce an online income report like this one?
Check out our tutorial that will help you start a blog of your own for only $3.49 per month (it's a tiny cost for blog hosting compared to the potential profits that are possible!).
Disclosure: Please note that some of the links on this page are affiliate links. This means that we may earn a commission, at no cost to you, if you decide to make a purchase after clicking through the link. Please understand that we have experienced all of these companies, and we recommend them because they are helpful and useful, not because of the small commissions that we receive if you decide to buy something through our links. Please do not spend any money on these products unless you feel you need them or that they will help you achieve your goals.
SIDENOTE! INVESTING DIVA!
You are invited to
attend a free webinar
by my friend, Kiana Danial. She is a professor of Wealth Management at Baruch College in New York, and has a decade of experience in the forex, stocks and ETF markets.
In this exclusive free webinar, Kiana will reveal her personal secrets and the exact strategies she uses for her university students to:
– Make more in one day getting their money to work for THEM, than they can a MONTH working a 9-5 job.
– NOT having to stick to their screen and analyze the markets all the time
– Start with A LITTLE initial investment
*** Plus – You'll get A FREE copy of her trading hacks e-book just for signing up today!
There are very limited seats available so claim yours now!
If you sign up through our Bluehost link you will also get a free blog domain name and the lowest possible price for hosting.
Be sure to check out our recommendations page for tons of exceptionally useful tools that we have used to make money online. We love them all and we are sure you will as well!
What Are Cash Back Websites?
Cash back websites are really cool. All you have to do is sign-up for the various sites then shop like you normally would through the sites links to your normal online shopping stores.
The shopper uses the cash back site to shop for products via the sites affiliate links.
Instead of pocketing the affiliate commissions, the cash back site gives a percentage BACK to the shopper as a kind of thank you bonus for shopping through their affiliate links.
So the shopper makes money back and the cash back site makes a small commission. Everyone benefits!
When you use cash back sites, you get cash back from the site which can be anything from 1% – 40% ! Additionally, you very often receive coupons, special deals and promo codes. You need to ask yourself why you wouldn't do this!
Yes it really is that easy and these sites are nearly always FREE to sign-up for and use.
Cash back sites are a great habit to get into and the savings can really add up over years and when combined with other ways to make extra money.
Why Nothing Tops Cash Back
With cashback sites, you literally do nothing for some extra money – it is a no brainer to start using these cashback sites to make a few extra dollars.
There are many cashback sites to choose from – some are great but some are NOT so good. Here are the best ones that we use regularly and save a ton of money with.
TopCashBack
TopCashBack is a great site that gives you money back on all your online purchases. You can check it out here. TopCashback has over 4000 stores that all give you cash-back when you purchase through the app. They offer sign-up bonuses during promotional periods and you can earn $10 for referring a friend.
Ebates gives you FREE money for shopping
Ebates – Ebates is a brilliant way to make money by doing…. nothing new! Just signup and don't change your spending habits to see the savings and gift card rewards mount up! If you sign up to Ebates using our link you will receive a $10 sign up bonus!
Be sure to look out for double cash back days (usually holidays). We recently purchased a Laptop through Ebates and got $55 back just for that! The last few months we made about $100 cash back from shopping through Ebates alone. They deal with all the major online stores so there is no problem finding the right link to shop through. We only purchase essential items through Ebates, things that we would be buying anyway so we might as well get cash back for them!
Remember you can still use online discount coupons when you shop through these cash back sites. Crazy savings!
Mypoints
Mypoints – offer some nice cash back rewards for shopping online in a similar fashion to Ebates! You Earn Points for shopping at your favorite online stores like Groupon, eBay and Walmart.
You even get a $10 Gift Card when you join MyPoints and spend $20 or more with a qualified partner. We really love MyPoints (check out our in-depth review here).
Mypoints also offers some other earning modalities like completing paid surveys and surfing the net for gift card rewards. These are nice bonuses but we really only use the cash back shopping rewards.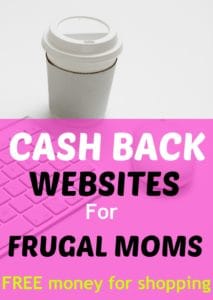 Swagbucks
SwagBucks is something that we use to earn some Amazon gift cards with very little work. They are a very well known company and very trust-worthy.
You can use SwagBucks just like Google for online searches. However, with SwagBucks you get reward points (called SB) for the things you do through their website.
Then, when you have enough SB's, you can redeem them for cash, gift cards, and more. You'll receive an SB (Worth $3) sign-up bonus just for signing up today!
The Top Cashback sites – Conclusions
If you want to maximize your cashback site rewards for shopping online, I recommend signing up for the BEST cash back websites that are discussed above – the more the better as you will cover more shopping opportunities with more sites. These sites have all proved so useful for saving more money when shopping online!
We really believe that your financial situation can change but you have to experiment with new things. It is amazing how many people have never heard of these sites (Swagbucks, Ebates and Mypoints).
If you are super busy and just have time to sign-up for one of these sites – make it Ebates. I promise you will not regret it – it is especially good if you are booking hotels or travel.
Good luck and please let us know of any other great money saving sites that you think other readers would benefit from.
Russell & Maleah
Related articles:
Earn Extra Money With Survey Momma – Paid Surveys
5 Passive Income Ideas For Busy Women
How To Make Money With Swagbucks
Hopefully you will agree that nothing tops cash back sites for passive income! Lets us know in the comments below if we missed your favorite cashback site!