How to Start a Blogging Side Hustle – Do you want to learn how to start a WordPress blog step-by-step in 10 minutes?

Do you want to learn how to Start a Blogging Side Hustle? One of the best things that we ever did was learn How to Start a Blogging Side Hustle. Trust us that learning how to start a blog can change your life.
Have you ever wondered how to start a blogging side hustle? Perhaps you have seen people boasting about how they make thousands of dollars per month but you don't know where to start.
We want to help you take the first step in creating your own WordPress blog and show you how to start a blogging side hustle ASAP.
We are going to show you how to start a WordPress blog for the lowest possible cost and as easily as possible in this article!
You will learn how to start a WordPress blog step-by-step in 10 minutes!
Disclosure: Please note that some of the links on this page are affiliate links. This means that we may earn a commission, at no cost to you, if you decide to make a purchase after clicking through the link. Please understand that we have experienced all of these companies, and we recommend them because they are helpful and useful, not because of the small commissions that we receive if you decide to buy something through our links. Please do not spend any money on these products unless you feel you need them or that they will help you achieve your goals. Learn how to start a WordPress blog step-by-step in 10 minutes!

Blogging and affiliate marketing is one thing that changed our lives. It allowed us to make extra income, and helping us to become financially free.
It only costs a few dollars per month to start your own money-making website or blog on WordPress using Bluehost (the cheapest way!).
Please read on if you want to learn how to start an awesome money making WordPress blog – I promise to guide you through the process step-by-step.
It Can Be Daunting Starting A WordPress Blog
But trust me, you CAN do this! You can learn how to start a WordPress blog step-by-step in 10 minutes in this article.

I totally understand if you can't invest a lot into your blog immediately. I have only invested $75 into this blog….ever! Unless you include an investment into my education (e.g this amazing blogging course).
Starting a blog on a budget is not hard in the least if you are willing to put in the time (30 minutes per day is all that is required).
Free Domain With A WordPress Blog
You will get a free blog domain through my link below and the lowest currently available prices for hosting your blog. Please don't hesitate because I'm not sure how long these prices will last. Besides, the sooner you get started on your blogging journey, the sooner you can start living the life of your dreams!
Click here to start a blog on WordPress
Why WordPress Is The Way To Go When Starting A Blog
I am completely convinced that a WordPress blog is the only way to go if you want to start a blog. If you want to get started and sign up with WordPress and Bluehost (I HIGHLY RECOMMEND BOTH), click here or the picture below. Then please read on for my detailed how-to guide on setting up a WordPress blog.
Step One: Choose a Domain Name
You need to choose a .com address for your new WordPress blog! I always recommend that you choose .com (or .net if the .com address is not available) as the ending to your domain because it just has a higher professional quality about it. This is the very first step when deciding how to start a WordPress blog!
Here are a few suggestions when choosing a domain name.
Keep it relevant to your content. But vague enough to give you some flexibility just in case your specific niche site slowly morphs focus over the years.
Keep it short and simple. In other words don't use long complicated words like 'unconventional prosperity'….moving on….
Check it is not the name of another company – a simple google search should be sufficient to establish this. This is important – I named one of my early websites with part of the name incorporating another companies name. They contacted me and politely asked me to change it. The moral of the story is they will find you!
Do a domain search. You have to check the availability of your chosen domain name. You can do this quickly and easily right now by typing your chosen domain name into the box below.
Step Two: Hosting Platform Choice
So have you decided on a name for your blog? Checked its availability above? Remember the most important step that you can take is ACTION.
I have seen so many people procrastinate for months and literally never actually start a blog because they wanted the perfect name!
You can always change the name of your blog at a later date by registering another domain name as the primary and redirecting your original domain to the new one.
With WordPress you get a free domain so you should take advantage of it! Once you have your name then you need to decide what host to use – this is the company that will keep your blog online and visible to everyone.
Given the amount of time and effort that goes into a blog over years, your choice of blog hosting is important.
I have heard horror stories of certain hosting companies servers crashing and people losing everything (it happened recently to my wife!).
We have always used Bluehost to host our multiple websites and blogs. We have always been very happy with the service that they provide.
We also wrote an article 8 Reasons to Self-Host Your Blog With Bluehost that explains in detail why you should self-host your blog with Bluehost.
How To Start A WordPress Blog with Bluehost
When a new blogger asks me how to start a WordPress blog, I always tell them that WordPress is AMAZING and simply the best platform.
It is so easy to use, and the relationship they have developed over a decade with the well known hosting company, Bluehost, is so beneficial to the new blogger.
The reason is that when you start your blog with WordPress and use Bluehost to power it, you get a company that knows WordPress extremely well.
So basically you massively simplify the blog setup process and the hosting company can actually help you because they are experts with WordPress.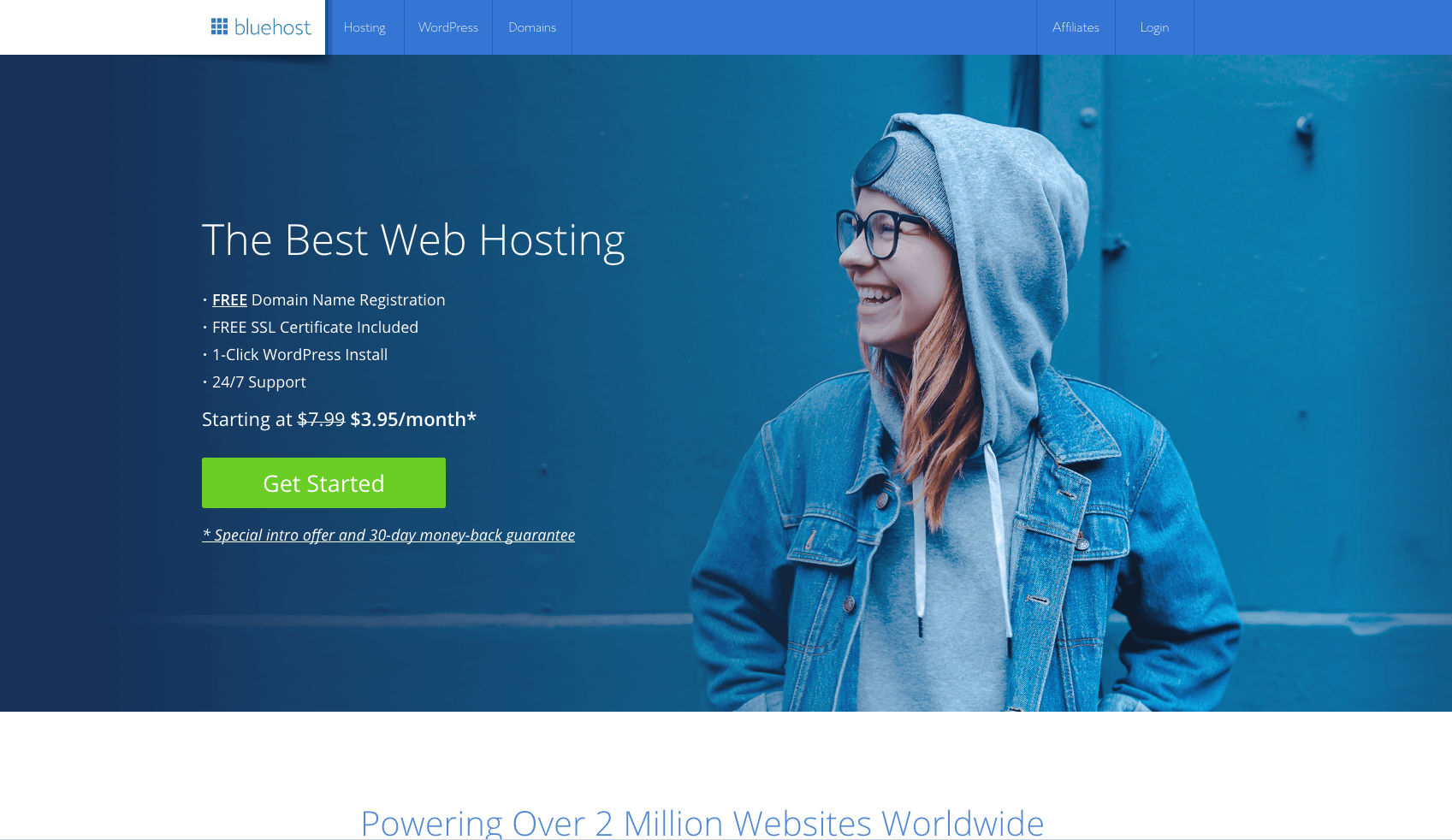 Why You MUST use Bluehost with WordPress
There are so many advantages for using Bluehost to host your WordPress blog:
What you will get – 1 free domain, hosting, free WordPress.org installation and 50% off (use my link for this discount)
Total cost for 1 year: $71.40
Total cost for 2 years: $59.40
Total cost for 3 years: $47.40 (discount is larger if you commit for a longer time period)
So it works out to be a few dollars per month to host your blog using Bluehost. This is the cheapest self-hosting that I have found and the discount through my link makes it even cheaper for you! I only started to make decent money from my blogs and websites when I started to use Bluehost.
Why You MUST Self-Host Your Blog With Bluehost
Without self-hosting it is very difficult to monetize your blog. Self-hosting your blog allows you access to a ton of tools like email opt-in plugins, advertising networks and premium themes that all help to make you money and increase conversions. Remember that WordPress through Bluehost is FREE!
Free blogs also appear a lot less professional than self-hosted ones – this makes them look less trust worthy to your readers. I made the mistake of starting my first blog without self-hosting and it has never done well – even years later!
Monetization control over your site – when you self-host your blog you have a choice of any advertising network! This is a HUGE deal because some ad networks pay A LOT. With a free WordPress site you are limited to the lowest paying ads that pay you almost NOTHING.
Honestly, I don't know of a single blogger that is making more than $100 per month is using a free WordPress site, it just isn't done!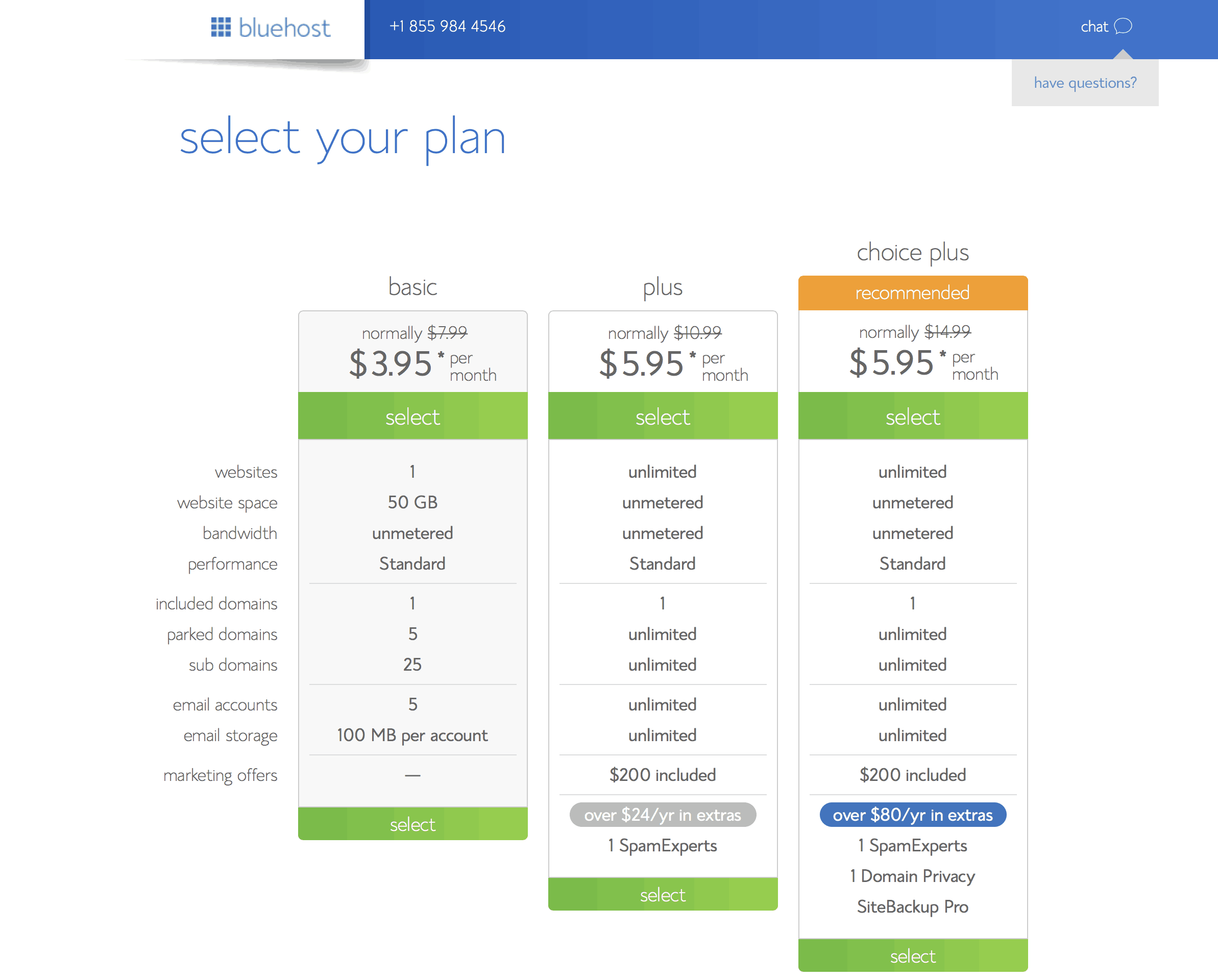 You also get a free domain with Bluehost if you purchase the basic plan (shown above). You really only need the basic plan for your new blog and you want to go with the 36 month plan. You get the cheapest rates with the 36 month plan and it is a good way to commit to your blog!
However, if this seems like too much of a commitment make sure to do a minimum of 12 months to take advantage of the free domain offer. You don't want to be doing month-to-month with hosting because it is considerably more expensive and if you don't renew your blog will be down and you lose visitors.
Don't let Bluehost up-sell you to any of the other plans – as a new blogger these are not needed. I have never needed these more expensive plans and even if you do need them in the future, it is very easy to upgrade.
How to Start a Blogging Side Hustle – Domain Privacy Protection
I do recommend purchasing domain privacy protection – I made the mistake of NOT purchasing it once and that was a DISASTER. I immediately got swamped with junk emails and calls from people trying to sell me SEO services etc.
If you don't buy domain privacy protection then anyone can contact you and because it is a new site they want to sell you tools, services and everything else. I highly recommend that you purchase domain privacy protection – it is only $0.99 a month and totally worth it!
Remember to use my link to get the lowest possible cost for hosting and a free domain!
Step 3: Ready To Create Your Blog?
Lets go! Simply follow the steps below to start your self-hosted blog.
Go to

Bluehost

and click the "Get Started Now" button.
Click on the basic package as we discussed above.
Enter your domain name.
Complete the personal and payment information.
Choose and enter a strong password for your account.
Step 4: Installation of WordPress and Bluehost
This is the step where your blog comes to life and becomes a real thing! Launching a blog with Bluehost and WordPress is very easy – which is partly why I recommend them so highly. No technical coding required!
With the exclusive Bluerock experience, WordPress is now automatically installed with every hosting purchase. Bluehost makes it incredibly easy to get your hosting and blog platform set up with one click. Just follow these simple setup steps and you'll be blogging in no time.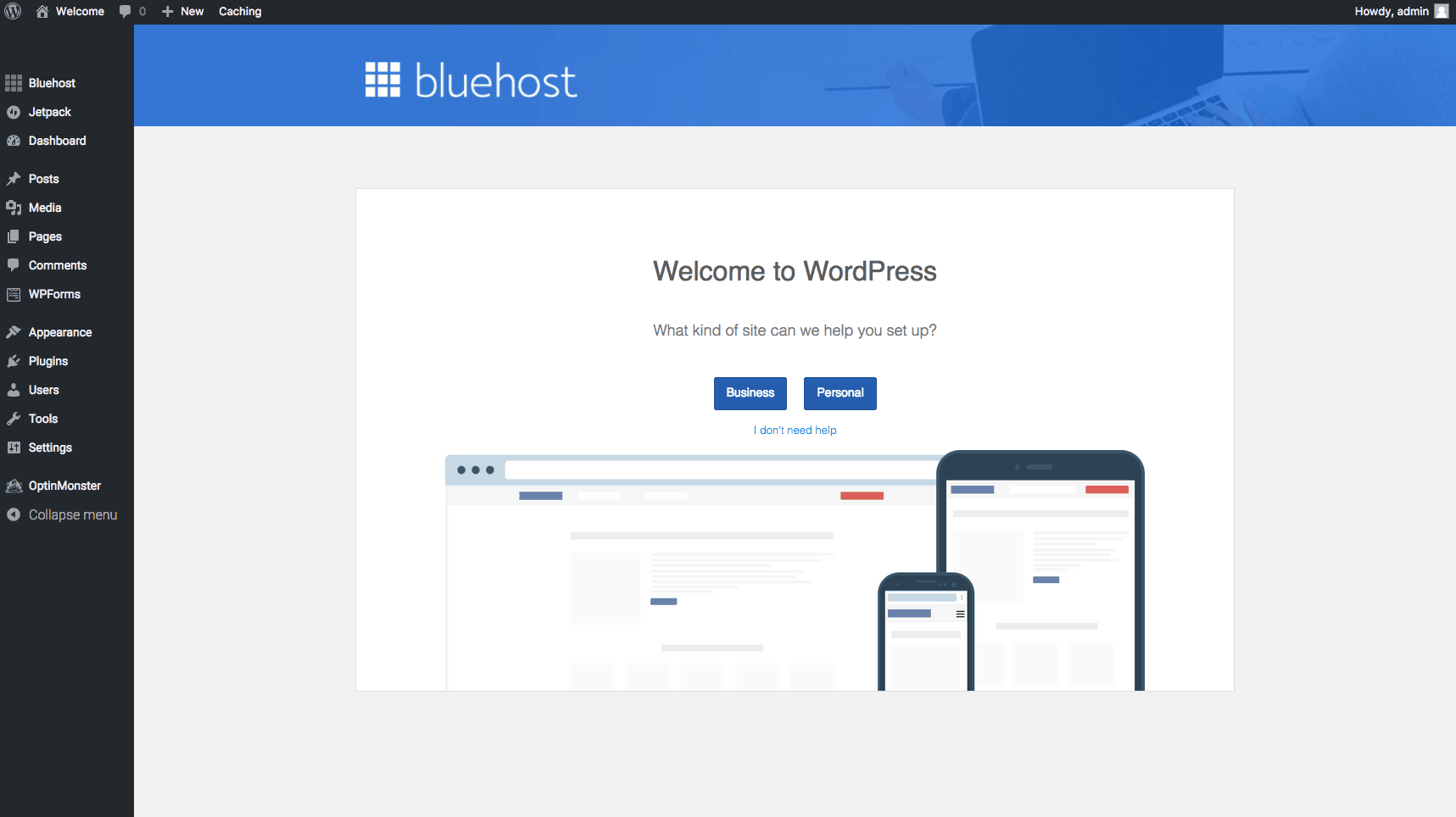 Bluehost will ask you to put in the password you created.
You will be asked to pick a theme. There are many free themes, but you can also pay a small premium for one you like. I suggest just going with a free one at this point, and you can always choose something that has more customizing features later.
Next, click on the "Start Building" button.
How to Start a WordPress Blog – Conclusions
There you go! You are now the proud owner of a self-hosted WordPress blog! Now it is up to you to produce some nice articles and work on a quality theme and design.
How to Start a Blogging Side Hustle
Hopefully you now have a good idea how to start a blogging side hustle using Bluehost and WordPress. You can go on to monetize your blog using affiliate marketing. Check out some of the links below to learn about how we monetize this blog and how you can do the same thing.
When we tell people how to start a blogging side hustle, many of them love the idea but never take action. Execution is everything so make sure you go for it!
Good luck!
Russell and Maleah
P.S Don't hesitate – start your blog TODAY and take back your financial freedom by building an online passive income source.
If you are looking to monetize your blog, be sure to check out some of the articles below that will help you to make money from your blog by using affiliate marketing.
Related Articles:
The Top 8 Affiliate Programs to Monetize Your Blog
How To Make $100k+ A Month With Affiliate Marketing
How To Make Money From Your Blog FAST
Hopefully we have showed you exactly how to Start a Blogging Side Hustle! Did you learn how to start a WordPress blog step-by-step in 10 minutes?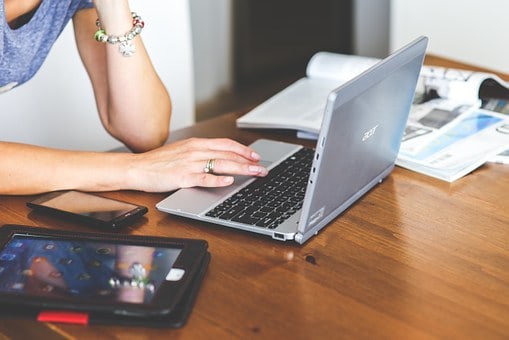 Hopefully you enjoyed our article on how to start a blogging side hustle! Comment below if you have started a blog!