If you are looking for the best ideas on how to make 100 dollars a day working from home – you have come to the right place!
It has been a few years since we learned how to make 100 dollars a day working from home. Currently, we are averaging $500 – $1,000 a day working from home.
Making 100 dollars a day working from home may sound like a difficult task, but it really is easier than you think. In this article we aim to show you how to make 100 dollars a day working from home with various freelance businesses. These businesses are extremely low-cost to start.
Don't get me wrong – it is not easy to make a steady full-time income from home. But if you take the time to learn the required skills to build real businesses online, then you will be successful working from home.
Let's jump right in with these awesome work from home ideas!
Disclosure: Please note that some of the links on this page are affiliate links. This means that we may earn a commission, at no cost to you, if you decide to make a purchase after clicking through the link. Please understand that we have experienced all of these companies, and we recommend them because they are helpful and useful, not because of the small commissions that we receive if you decide to buy something through our links. Please do not spend any money on these products unless you feel you need them or that they will help you.
#1 Freelance Proofreading
Freelance Proofreading is a very low-cost way to start making money from home. Most of the freelance virtual assistants and writers start with freelance proofreading because it encompasses so many different skills.
Building a proofreading business takes a lot of work. There is a steep learning curve when you first start out. Luckily, other people have figured out how to do it and you can learn from them. One of the best freelance proofreaders is Caitlin Pyle. She made a full-time living as a freelance proofreader for many years and now she teaches other people how to start in the business.
If you have proper punctuation, spelling and grammar skills then you might be a natural for proofreading. Most people can learn the basics of proofreading and how to build a business with it.
How do you learn how to be a good proofreader and get the best start with your freelance proofreading business?
Try Caitlin's free 50-minute workshop that explains how to get started and how she was able to build a full-time income proofreading.
We have written extensively about proofreading, many of our friends are proofreaders! Here are a few articles where they tell their stories:
Bobbi got her first client 1 month after completing Caitlin's Proofread Anywhere course!
Stephanie got started as an online entrepreneur as a proofreader!
Elizabeth is an expert Proofreader that completed the Proofread Anywhere course
Drew is an experienced virtual assistant and proofreader
You can easily make 100 dollars a day with proofreading. Typical pay ranges from $20 – $100 per hour depending on the type of work and your experience.
Want to start a profitable online business? Here are our top recommended online businesses.

#2 Stock Trading
Wondering how to make 100 dollars a day working from home with stock trading?
Trading stocks is something that you can do from home. It is an exciting way to work from home and potentially very lucrative! We have traded stocks successfully for many years. You can start with small amounts of money until you get the hang of it. We made the mistake of jumping all in with $25,000 and it was just too stressful for us! We have written an article about how to get started for free.
Side Note: Come and join our stock trading alerts Facebook group (How To Make Money With Stock Alerts Services)! We also have a Stock Alerts Reviewed YouTube channel which we hope are helpful. As a new trader it's helpful to be part of a community of traders so you don't feel you are battling the market alone!
We regularly make 10% – 20% profits within the 4 days. He even issues buy and sell alerts for you to copy his trades. This is what most beginners do until they learn how to be independent traders.
People regularly ask me how to make 100 dollars a day working from home by stock trading. I tell them that stock trading can be one of the most lucrative work-at-home jobs. Making $100 a day with stock trading is easy – we have had days where we make $8,000!
#3 Freelance Writing
Freelance writing is a very popular way to make money online. I usually tell people that want to know how to make 100 dollars a day working from home that freelance writing is a top choice. Freelance writing can be the perfect side hustle for so many different reasons, including:
Working for yourself from home.
One of the highest rates of pay.
People need new content for blogs, magazines and eBooks.
You get to network with so many other entrepreneurs and make valuable connections.
The ability to write well is obviously a good starting point if you are considering a starting a freelance writing business. But don't confuse the writing part with the business part of freelance writing! The business side of things is actually more difficult!
Luckily, there is a course that most successful freelance writers take to ensure that they gain traction with their writing business as quickly as possible. If this is something that interests you, be sure to check out Holly Johnson's course called Earn More Writing.
Holly Johnson is worth listening to, because she makes $200,000+ a year with her freelance writing business. She teaches you how to find clients and run your writing business properly. You can get an insight into her course in her free masterclass.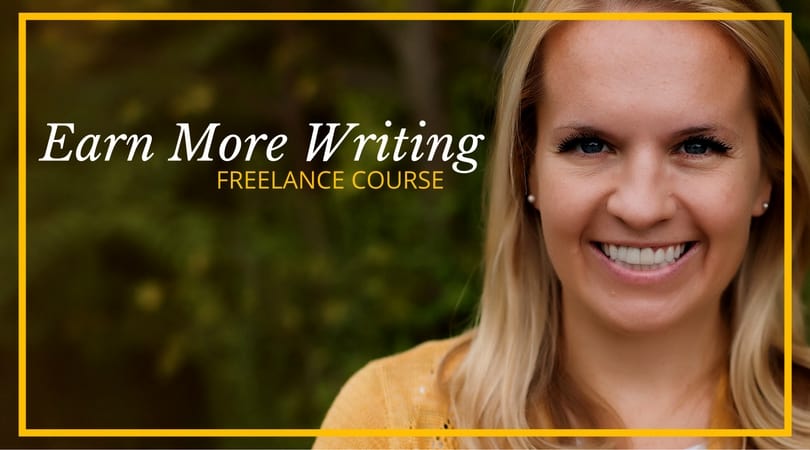 How much can you make as a freelance writer? Well, I would not expect more than $500 per article in the beginning. I hire freelance writers, and I will typically pay $200 to $500 for a good 2,000 word article. This seems to be the going rate, at least for small bloggers.
Typically you can make several hundred dollars per day with freelance writing. This will depend strongly on your ability to land clients and deliver high quality work quickly.
If you are interested in freelance writing as a way to make money, be sure to check out our article all about it.
#4 Online Survey Work

When companies are developing new products they want to understand what their customers actually want. If they understand what potential customers want, they are in a much better position to make better products and even target their ideal customer base better.
They are more than happy to pay people to complete surveys online that give them this insight. Surveys are one of the easiest ways to make money working from home because you don't need any special skills or experience to start making money from them.
There are so many different survey sites out there that aim to find out information about what you buy, where you buy it and what else would you buy. Survey takers are most commonly paid through PayPal, often within a week of completing a survey. Being paid to complete paid surveys online is a decent way to make a few hundred extra dollars, but it will never make you rich.
One of our favorite paid survey sites is called Survey Junkie.
We have also used Vindale Research to make a few extra bucks. The surveys are quite well compensated for the time you have to spend on them.
#5 Teach English Online
Teaching English online to children in China is one of the most popular ways to make money online. The main website that helps to connect you to clients is called VIPKID.
VIPKID does a lot of the work for you. They talk to the parents of the students and give you the lesson plans to work through. Really, all you need is your laptop. According to the VIPKID website, you can earn up to about $22 per hour teaching with them.
You don't need a degree in English or massive amounts of teaching experience to become an online English tutor for VIPKID. They require some basic 'mentoring' or teaching experience but the rules are quite relaxed. My friend Kelan worked for VIPKID and he loved it. His experience with teaching English online was his introduction to freelance work and online entrepreneurship.
Most companies will require that you have a bachelors degree and that you are fluent in English. Which is not that surprising if you will be teaching English really!
VIPKID let's you select 25 minute slots in your online portal. You choose how many lessons you give and when you do them.

There are a few other places that will help you to teach English online.
#6 Blogging
When my friend and family ask me how to make 100 dollars a day working from home, I always tell them to start a blog.
Are you passionate about something you could write about in a blog? Maybe you are an expert in a particular topic. A blog is not a diary, rather a collection of articles about a particular topic. They are a great way to help people learn new skills. All that is required is that you love to write about a topic and teaching people. As you can probably tell, we love writing about money and personal finance.
There are so many different ways to make money with a blog. We make money with affiliate marketing and on-page ads. Many of our friends make money by accepting sponsored posts from companies and selling their own digital products. Usually, these products are educational courses.
You can earn an unlimited amount from blogging. We currently make between $15,000 and $20,000 a month. Many people make a lot more than this. We learned how to monetize our blog from a successful blogger called Michelle Schroeder–Gardner. She makes between $100,000 and $200,000 a month from her blog!
If you want to learn more about Michelle and check out her Making Sense of Affiliate Marketing course then have a read of our article about her. You can also check out our step-by-step tutorial to learn how to start a blog.
So forget learning how to make 100 dollars a day working from home – start blogging and make a fortune!
#7 Virtual assistant
A virtual assistant (VA) helps many people perform different tasks remotely. Usually these tasks are administrative in nature. The nice thing about being a virtual assistant is you can choose what jobs you want to do. Don't want to work for a big company? You don't have to. You can just choose to work for other bloggers or solopreneurs.
We have hired VA's for jobs that I am not good at. They have been so valuable to the success of our blog.
What exactly do virtual assistants do ? Here are just a few tasks that are quite routinely performed by VA's:
Managing social media (e.g. Pinterest)
Transcribing or proofreading blogs posts
Managing emails
Managing appointments
Preparing slide shows for clients
Customer service
You can grab some free resources to learn more about becoming a virtual assistant.
Typically, you can be paid anywhere from $20 – $50 per hour as a VA. If you are wondering how to make 100 dollars a day working from home – you can't go wrong by becoming a VA.
How to make 100 dollars a day working from home – Conclusions
I hope we have given you some ideas about how to make 100 dollars a day working from home. Working from home is a dream for many, but it is completely within your grasp.
Good luck!
Russell and Maleah
Related Articles
Side hustle making money trading event tickets online
Did you learn how to make 100 dollars a day working from home? Let us know in the comments below!